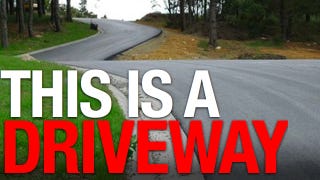 Kiwi racing champion Rod Millen does everything better than you. Your old Toyota has 130 horsepower. His old Toyota has 800. Your driveway's a cracked asphalt mess. His driveway's a mile-long, race-paved dream that mimics the best race tracks in the world.
When Millen visited the Goodwood Festival of Speed in 2002 he saw the event's famous hill-climb track and decided he'd do the same thing… in his front yard. It's the kind of thing that seems logical when your job involves sending insane vehicles up the sides of guard-less cliffs.
Conveniently, Millen owns a large ranch in Hahei, New Zealand with enough room to fit a mile-long racing stage, albeit one not much wider than your average driveway. After years of planning, brush-clearing, and paving the track was finally finished earlier this year.
More amazing driveway stories: