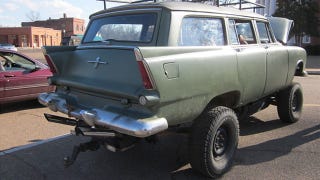 What has four wheel drive, four doors, a sky high body lift and Virgil Exner styling? With the exception of this 1956 Plymouth wagon currently listed on Ebay we're pretty confident the answer is absolutely nothing.
Putting a car body on a four wheel drive platform isn't exactly a new idea. People have been putting Camaros and '57 Chevys on four wheel drive platforms since they were old enough to be acquired cheaply. To really grab our attention you have to put together a truly oddball four wheel drive/body combination like the four wheel drive MGB we saw a couple weeks ago. Another prime example of the sort of four wheel drive swap weirdness we love is this found on ebay 1956 Plymouth station wagon.

When it started life 55 years ago as an Exner styled "Forward look" family hauler no one could have known this 1956 Plymouth, produced in an era when the car was a disposable entity, would still be around to see 2011 or what state the car would be in when it did. Truth be told, it is really only the body of this Plymouth that has made it. The wagon was placed on the four wheel drive frame of a 1991 Chevy Truck. With the original Plymouth frame and driveline meeting an unknown fate this wagon is now powered by the throttle body injected 350 V8 and 5 speed manual transmission the donor truck left the factory with.