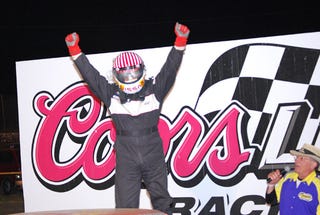 I was lucky enough to have the opportunity to partake in a few motorsports events, snap a couple of blurry photographs, mistype some finishing results, and report back here on Jalopnik. Here is a top 10 list of those adventures.
Admittedly, most of the coverage I produced was self-centered, egotistical and extremely self congratulatory (a lot like this very post). However, that sort of accidentally happened. The original idea was to bring coverage of amateur motorsports events to Jalopnik. The plan was for it to be real, in-depth coverage, where the rubber actually meets the road. To do this my friends and I would run anything anywhere, see where we finished and I would chronicle our adventures on the site for like minded gearheads to enjoy. That meant being at the tracks and actually competing in the events. Unfortunately, sometimes it meant beating up my friends' cars (sorry about that guys) because I didn't own the right type of vehicle for a certain race. One particular borrowed ride was an Infiniti FX 45 that we used at a Rallycross, which, rumor has it, will never be the same. Good thing it was a lease.
Some of the "live" coverage of these events I tried to do wasn't very "live" at all. This was due to the fact that I bit off a little more than I could chew. With towing cars to race tracks, organizing the crew, setting up the car, learning a new track, attending drivers' meetings, fixing crash damage, and most importantly, drinking beer, I often didn't have the few moments I needed to sit behind my computer, highjack some wifi, find a picture that wasn't completely blurry and quickly put up a post on Jalopnik. Trying to put up the stories quickly resulted in grammatical errors and sometimes stories with major details missing. Most of the time, I just didn't have enough time. Winning the race was the priority. The blogging would have to wait.
Eventually the race would be over, and if everything went right for my team, we won. Trophies were handed out and victory beers were consumed. After the celebration (and inebriation) I would sit down in the motor home, totally stoked on our recent accomplishment and try to think of something to put up as a post. Feeling good in the moment, inevitably those stories said something like, "Krider Racing is the shiznit!"
After a year of this, many checkered flags were waved, tons of tires were destroyed, and over half a million hits were accounted for on Jalopnik. Those half a million hits included nearly 5,000 comments, with 10 percent of those containing narratives of people calling me a "self-centered, big headed, douche bag." A comment I can't really argue with. So, to keep the ball rolling, and so as not to disappoint, here are the Top 10 Things I Accomplished While Contributing to Jalopnik. Get those particular keys on your keyboard ready for the comments section: D-O-U-C-H-E-B-A-G!
NUMBER 10
10. Took a Volkswagen Bug and ran it flat out in the Beetleball Endurance Rally Series from The Queen Mary in Long Beach, California, across the desert, touched Arizona, over the Hoover Dam and onto the Las Vegas Strip in Nevada.
The Beetleball would be one of those totally illegal open road races if a VW could actually go fast enough to break the law. Using an air card, I actually covered the rally live while we were racing in the event. My brother still hasn't forgiven me, because we missed a freeway exit on the route while I was busy trying to get this photo (below) instead of reading the route instructions. "Dammit! Stop blogging for Jalopnik and pay attention!" Even with my poor navigation skills, we somehow won our class anyway. Most importantly, we had an awesome time hanging out with a great group of VW fanatics.
Event Link: Beetleball
Result: Won the Baja Class and finished second overall.
Coverage Link(s): Beetleball Long Beach to Las Vegas, Beetleball Is On!, Checkpoint 1: Amboy, CA, Beetleball Results