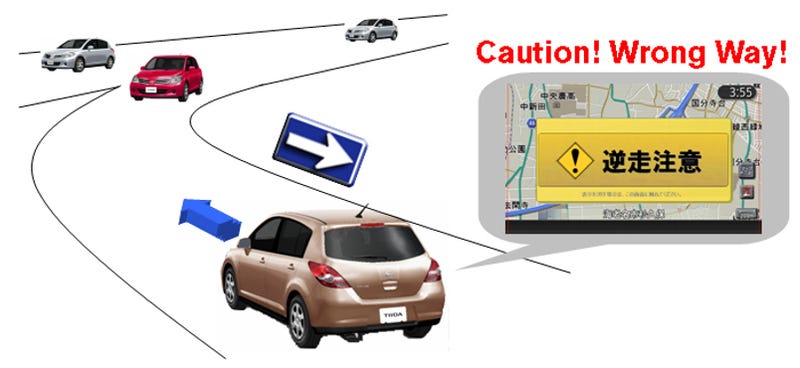 Nissan is developing Darwin-defying in-car technology capable of detecting when old people and bad drivers head the wrong way down highway on-ramps. The system could also detect impending collisions with cell phone-carrying pedestrians.
Both systems use GPS to determine the precise location and direction of travel of a vehicle, and then determine if a dangerous situation is imminent. In the case of the wrong way warning system, it's simply a case of recording the position and direction of ramps in map databases, then equipping cars with some sort of warning device.

The pedestrian collision warning system is a bit more complicated, relying on those pedestrians carrying GPS-enabled cell phones. The location, direction and speed of those cell phones will be compared to the location, direction and speed of GPS-equipped cars, if the possibility of an impact is detected it will trigger an alert within the vehicle.
Technology already exists from other manufacturers to automatically slow cars when a potential collision with another vehicle is detected by on-board radar. Unfortunately, in the case of the Mercedes Fog system, it's not always successful. It's conceivable that the two technologies could be combined to create virtually collision-proof cars. Indeed, that's the direction automakers like Volvo are hoping to go in the future with vehicles that could do without any physical impact protection in favor of car-to-car, car-to-pedestrian and car-to-road communication. While previously manufactures saw that communication taking place directly via radio transmissions, this development could point towards GPS and communications satellites facilitating its implementation.