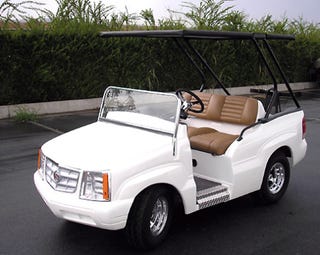 That bastion of bling second only to the
Hummer H2
, the
Cadillac Escalade
, is being downsized, according to a new report from the folks who forecast trends in motors. The next Escalade would likely be yanked from the current body-on-frame
GMT900
platform and developed instead on the
Lambda crossover platform
that underpins the
Chevy Traverse
,
Buick Enclave
,
Saturn Outlook
and
GMC Acadia
. A V8 engine is rumored to be required for any possible downsizing to happen, and Lambda is said to be able to accomodate such a mill; whether it will be the corporate 5.3-liter unit or something altogether different remains to be seen. Whither
Escalade EXT
? Apparently it could go to the
Zeta platform
or get dropped altogether.
Jalopnik Snap Judgment:
Those old enough to think "Cimmaron" anytime someone mentions a downsized Cadillac probably shouldn't be too concerned: The current Buick Enclave demonstrates that Lambda is well-suited for luxury duty, and GM's efforts at interior and exterior styling differentiation among its various brands show the company is taking each division's uniqueness seriously. With a V8 featuring Active Fuel Management and some readjustment of the 6-speed tranny's shift points, we'll bet a Lambda-based Escalade would see a significant jump in sales over the current truck version. [
Automobile
; Photo Credit:
Premiumposts.com
]