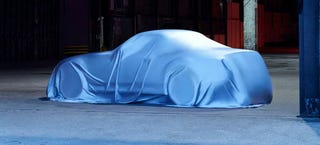 Screw the iPhone 6 unveil because September 3rd, 2014 is the day this month we'll remember. A day where the heavens will open and bestow the greatest gift that can be bestowed: The 2016 Mazda Miata will arise to save you from the burden of weighty, boring automotive conveyances. This is everything we know about it.
(Full Disclosure: I own a Miata and I'm a huge fanboy. Also I'll be attending the Miata launch in Monterey this week and gahhhhhhhhhh I'm excited. This post is full of bias. So much bias.)
The current Miata, aka the NC to us Miata nerds out here in Miatadom, has been around since 2005. I was 18 when it debuted and, like me, it was fresh faced with no worries or cares at all.
Amazingly, the Miata (which they then tried to just call MX-5 but everyone still called a Miata because it's a Miata and we ain't no fools over here Mazda. It's a Miata) still feels like a living object in a world of heavy, uncommunicative, shit box appliances.
The new Miata promises to take that to an extreme by being lighter, smaller, and quicker than the already lithe current Miata, a car that you can slide by suggestion and induces smiles with every shift of its tight little gearbox. Here's what we know about our new answer to every question.
What's under the hood?
The powerplant of the Miata has always been an afterthought. It's not a Challenger Hellcat. It's not about power.
The Miata is about a feeling, a way of life, a state of being. Sure, you can throw a V8 under the hood or turbo the hell out of it, but the original vision is a car that is in total balance with itself. It's a Zen experience. The car is representative of its own design philosophy, which is called Jinba Ittai. In Japanese, Jinba Ittai is a horse and man as one. That's the Miata.
But to answer my own question, we're hearing that the new car should have a 2.0 liter SkyActiv engine with similar power to today's car. There's also a chance that the new Miata is going turbocharged. The preview video of the car on some mountain roads has a distinct sound that only a turbocharger can provide. There's also the curious case of the mule that was found at port with a distinct little turbo under the hood.