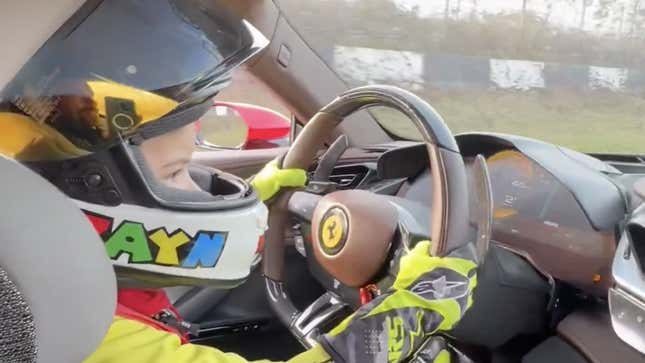 I am not a parent, and I don't plan to be one for quite some time. But, I cannot imagine it is the best idea to let your 3-year-old toddler loose on a race track at the helm of a 1,000 horsepower Ferrari SF90 Stradale. That's not an opinion shared by everyone, especially Kenan Sofuğlu, a former professional motorcycle racer.
Carspotting at Sotheby's: Ferrari Edition
In case you missed it:
In a video posted to his Instagram with the caption "1000hp under control on the track," Kenan lets his son, Zayn drive his SF90 Stradale around a racetrack in a full racing suit. Zayn can be seen behind the wheel of the red Ferrari, sitting in a booster seat and revving the 4-liter V8 engine via pedal extenders.
Viewers then go inside the cockpit of the SF90 as a toddler drives around the track. Granted, it isn't at balls-to-the-wall speeds, but it's still a pretty good clip in a car that starts at over $500,000. Hell, little Zayn isn't even driving the car in automatic mode. He's making use of the column-mounted paddle shifters.
G/O Media may get a commission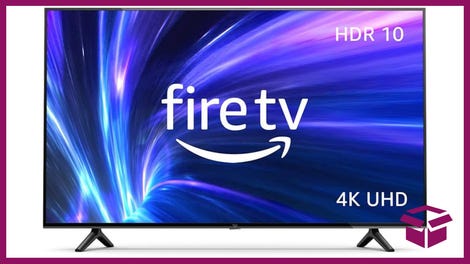 42% Off
Amazon Fire TV 50" 4K Smart TV
With good reason, this video was like nothing I'd ever seen before… until I clicked on Zayn's Instagram profile with 1 million followers. From there you can see this child riding motorcycles, scooters, karts, other (less insanely fast) cars, and even jet skis. Listen, I'm all for letting your kids explore what they love, but Jesus. This is some wild stuff to be just throwing up on the internet.
On top of all this, and very ironically, Ferrari just issued a recall of some SF90 Stradales because of an issue when owners put a child's seat in the car.
Would I have loved it if my parents were in this sort of position to let me do things like this as a child? Absolutely. Would I have died almost immediately? Without a doubt.
With all that being said, we don't know what sort of safety precautions are being taken into account here since all of the videos seem to be fairly highly edited. For my own sanity, I'm going to assume all of these stunts are happening in a safe environment, and for Zayn's sake, I sure hope I'm right.