Ulysses once went on an odyssey, a trip so long his wife, Penelope thought he was dead and was thus forced to beat off unwanted suitors. Today's Nice Price or Crack Pipe Honda Odyssey has enough room for the wife and kids, so problem solved, right? Well, not quite as we'll still have to see if its price hits a Homer.
How you gonna' keep em down on the farm, once they've seen Audi… Iowa is a predominantly agricultural state, and adding some additional culture to all that Agri was yesterday's Ottumwa-located 1990 Audi V8 Quattro.
That's a pretty unexpected car to find sitting in the grass next to some Iowan's dirt driveway, but even more surprising was its one-grand asking price. The shock and awesome represented by the car and its price resulted in the bountiful harvest of an 80% Nice Price win.
G/O Media may get a commission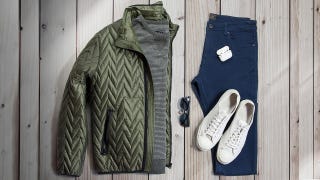 60% off
Jachs NY Fall Sale 60% Off
If you're less interested in staying down on the farm, and more interested in having an adventure, then perhaps you'll appreciate today's wham-slam-thank you ma'am 1998 Honda Odyssey.
This, the first generation of Odyssey, has perhaps slipped from the enthusiast's communal consciousness. It seems that the biggest achievement of this swinging door sort-of-a minivan was that it was sold by Isuzu as the Oasis. The Odyssey - and Oasis, I guess - were Accord based and offered three-rows of plant your ass.
Now, it should be noted that while this is the first generation of Honda's Odyssey minivan, the name was earlier used on a way-cool ATV, and it's best not to get the two confused as to the extent of their capabilities, especially if you're driving the snot-noses to school.
Should the kidney beans require such a taxi service, then they would most likely spongebob their squarepants to discover they'd be riding in this custom machine. First off, that interior, well it's been filled with custom upholstery that looks like it's out of a Lambo or something. Then there's the privacy curtains, you know, for privacy?
There's also a bunch of other stuff going on in there, half of which makes me go, "huh?" Neck pads? Hydro dipped? Get off my lawn!
Whatever, it's custom, okay? The exterior has got it going on as well, and that's where impressing other people really takes place. On this 244,000 miler, your battlefield tools include JDM lights, a lower body kit, smoked window visors, and exhaust tips that demand not to be ignored.
It's also slammed and riding on coil overs and 19" Eurolines, all of which make it d'bomb. How are the other mechanicals? Who cares when you look this dope? In case you were wondering, the drivetrain on these was a 152-bhp edition of the Accord's 2,253-cc four and a 4-speed slusher.
The seller is asking $8,000 or trades, and since we don't do trades, what I know want to know is your opinion on that price and this custom Odyssey. Does that price seem like a deal for a van named for an epic adventure? Or, does it mean that the seller is trippin'?
You decide!
Portland Craigslist, or go here if the ad disappears.
H/T to Flying Fish for the hookup!
Help me out with NPOCP. Click here to send a me a fixed-price tip, and remember to include your Kinja handle.