Today's Nice Price or Crack Pipe Audi once represented the marque's top-tier sedan. Now it's just another barnyard denizen, headed for an uncertain future. It's price is likewise diminished, but is it still farm fresh?
Okay, I get it, you hate the Ford Bronco II, west-coaster even going so far as to claim that every sequel-named Ford has been something only a dung beetle could love. That opinion countered the condition of yesterday's 1985 Bronco II XLT Eddie Vedder edition, to the point that it was almost a foregone conclusion when its nearly fourteen grand price went down in a huge 84% Crack Pipe loss. Sorry, II, but sophomore efforts rarely pan out.
Oh how the once mighty have fallen. Did you know that for a few bucks, or maybe just a hot meal, you can get Screech from Saved by the Bell to come over to your house and give you your own personal Dirty Sanchez. It's true, I saw it on TMZ!
Another icon of accomplishment that has fallen on hard times is today's 1990 Audi V8 Quattro. Once the range-topper for the German brand's family of sedans, and based on the Typ 44 platform of the lesser 100/200, the V8 featured all the bells and whistles - even the ones only dogs can hear - that Audi could throw at it. These cars also represented the marque's first attempt at hanging a V8 over the nose of a car like an especially hefty Rose on the bow of the Titanic.
G/O Media may get a commission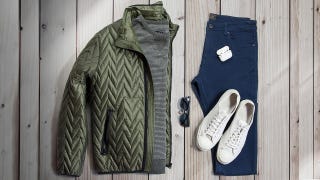 60% off
Jachs NY Fall Sale 60% Off
That original V8 was a modest 3.6-litre 32-valve unit that the factory claimed was good for 247-bhp and 251 lb-ft of torque. A five-speed stick was one choice for backing up the eight, but in the case of this car, the tranny is the optional ZF 4HP24A four-speed with multi-mode. Of course the car also has Audi's famous Quattro drivetrain.
The interiors of these cars were kitted to the nines - and if you don't know what that means, ask your grandparents. They were heavily swathed in leather (the Audi, not your nana and papi) and featured more wood than a Kevin Bacon film retrospective.
On this car, things have seen better days, especially the seats and carpet, but hey, that's why they invented Yosemite Sam floor mats and fake sheepskin seat covers. As a bonus, the steering wheel cover is d'bomb.
Externally, things are a little beater, er, better. The ad does note that the clear coat is packing it up in places, but that just gives it a tough, doesn't give an eff attitude. Rust seems to have been kept at bay too, even if the backyard dirt hasn't. Seriously folks, if you're going to try and sell a car - I don't care how cheap - tidy it up some, m'kay?
The punctuation-lite ad does claim that the car is 'fast' and 'starts right up.' Those are both good signs and indications that if you were to buy this 171,000-mile Audi you could probably get it out of Ottumwa (Fairfield) Iowa, where it currently resides.
And what, pray-tell would it cost to do so? Well, only $1,000. You carry that much in a wad everyday, right? In case you need to choke a horse or something? What do you think about taking that wad and instead, buying this Audi V8? Would that sound like a good idea? Or, is even $1,000 today too much for this once mighty machine?
You decide!
Ottumwa IA Craigslist, or go here if the ad disappears.
Help me out with NPOCP. Click here to send a me a fixed-price tip, and remember to include your Kinja handle.