What have you been working on lately? We're bringing back Build of the Week, and we want to feature the most fascinating projects out there in the process: wild engine swaps, show cars, race cars, rare cars, and even meticulously well-preserved regular cars no one else has the guts to love. To kick it off, we'd love to feature some of the most enthusiastic enthusiasts on earth: you.

We're not just limiting this to the usual performance or restoration projects, either. While we certainly want to see where you've shoved a 2JZ, too, we'd also like to feature anything that's interesting, underappreciated, or simply a good story. Everything from hater-prone automotive subcultures to strange motorsports is fair game.

Have you squeezed more horsepower out of a particular car than anyone else, and do you want to share the secrets of your build? We don't care if it's a 4G63T from an Evo or a two-stroke from a Trabant—you have our attention.
What strange things have you swapped into a car? Electric drivetrains? Turbines? Manual transmissions on cars that deserved one from the factory, but never got one? Self-designed parts? Anything delightfully heretical that will enrage the purists?

Are you the proud owner of a slab who wants to school us on candy paint and wire wheels?

G/O Media may get a commission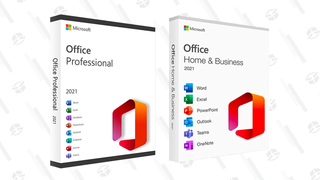 89% off
Microsoft Office Professional 2021 Lifetime License
What have you lifted to take off-road that isn't your average truck?

Are you the world's foremost expert on Mercury Milan tuning, for some reason?

Is your car only one of 16 left, and how are you keeping it alive?

What unlikely vehicle are you going racing with, or taking on a race track?

Are you keeping Mom's old car alive out of sheer love, and fixing it up?

We don't care if you're building for looks, wins or even some personal obsession with or tie to a car so long as it's rad. Show us cars we love already, along with cars we wouldn't think about, or have rarely if ever heard about in the first place. What have you done to it, and why? Let's chat.
Drop me a line or comment below if you or someone you know is building something we'd enjoy. Send an email to stef dot schrader at jalopnik dot com, preferably with "Build of the Week" somewhere in the subject line so I can find it.