Few subjects are as sore among the Porsche faithful as the company's refusal to put a manual transmission in the current 991 generation of their mad track weapon, the 911 GT3 RS. Now one heroic owner is doing what Porsche should have done from the factory by putting a manual transmission into his own 991.1 GT3 RS.
Owner Rob Janev started the most wonderful build thread in the world on Porsche enthusiast forum Rennlist, where he's documenting the progress of the swap.
Janev, who spoke with Jalopnik over the phone, has owned a number of Porsches over the years, getting into the marque through 944s early on, with a 991.1 911 GT3 RS, a 997.2 911 GT3 RS, a 993 911 Carrera and a twin-turbo 997 911 Turbo in his current stable of cars.

All of his current Porsches have manuals—except his new 991.1 911 GT3 RS, which only had around 900 miles on it when he started the transmission swap.

G/O Media may get a commission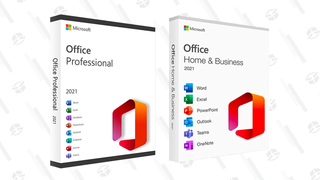 95% off
Cyber Monday - Lowest Price Ever - Microsoft Office Lifetime License
"I don't like that Porsche took the manual option away from us GT car owners only to put it back into a limited numbered car and play games with allocations," Janev said on Rennlist.
That limited-edition car is the ultra-unobtanium 911 R, a car which was sold out almost as soon as it was announced. Right now, 911 Rs for sale cost almost twice what a regular PDK-equipped 911 GT3 RS costs. "PDK," of course, is short for "Porsche Dopplekupplungsgetriebe"—or "Porsche double-clutch transmission."

The 911 R shares the 991-generation GT3 RS's 4.0-liter flat six, so its six-speed manual transmission would hook right up to Janev's car.

Janev reached out to BGB Motorsports early on to help get the swap done. BGB Motorsports existed solely as a race team for 14 years before they went into modifying customers' cars. Since then, BGB has done numerous other intense Porsche builds in the past, but this was the first time a 911 R transmission was ever going to be swapped into a GT3 RS.

BGB Motorsports owner John Tecce admitted that he had to be talked into doing this swap for Janev when he spoke with Jalopnik about the project. He wasn't even entirely sure they could pull it off.
Janev, however, said he became more determined than ever to make this manual transmission swap happen after Porsche announced there would be no manual transmission for the refreshed 991.2 GT3 RS next year. Together, Janev says he and the team at BGB spent around seven to eight months just researching the idea and looking at options on how to make this happen.

Tecce found and studied an ultra-rare 911 R before making the swap to figure out how it worked. Surprisingly, that car was much harder to track down in the Daytona Beach area than you would ever expect. Bigger cities in Florida have a larger Porsche scene, but Daytona Beach—yes, that Daytona Beach—does not. Even around Orlando, finding one of only 991 of the 911 Rs in existence is a tough ask.

No one was even sure Porsche would sell a 911 R transmission without a VIN, but fortunately, they were able to source one from Suncoast Porsche Parts after the 911 R's transmission was finally added to Porsche's parts catalog. Janev said that they waited approximately four months for the coveted manual gearbox and other parts to come in from Porsche. He over-ordered parts just in case, because no one had done a swap like this before.

"You could have filled a dump truck with all the parts," Tecce told Jalopnik.

Additionally, Janev wanted to give the project a custom touch and make the transmission swap look as stock as possible, so he ordered custom gauge cluster faces that got rid of the indicators for the GT3 RS's dual-clutch PDK transmission as well as a custom shifter boot and several other leather interior pieces from Exclusive Option. Some of the center stack buttons needed to be swapped as well in order to make it look as if the PDK was never there.

Most of the work was done by BGB, but Janev couldn't help but to start taking apart the little stuff that he could before he got it over to the shop as they all waited for parts to come in. He was so excited about the project that he started doing small prep work on the center console and the steering wheel before the car was trailered over to BGB, roughly still 96 percent assembled but with some of the crucial aesthetic bits out of the way.

Physically installing the parts for the manual transmission was perhaps the easiest thing the shop did. The 911 R parts were all but plug-and-play into the 991.1 GT3 RS chassis. The gearbox, clutch, pedal box and all of the other major mechanical parts needed to make it work were installed by BGB in only a couple of days.

The biggest hurdle, of course, was electrical. Tecce said that wiring and coding easily took up half of their man-hours on the project. First, the car's electrical harness had to be modified to accommodate the electronic parking brake and the clutch in the car. BGB hired a trusted wiring tech from Orlando for this step to make sure it was done correctly.

Turning off all of the warning lights that came on once the swap was in took a good 60 to 70 hours on its own. So many systems are interconnected on a modern Porsche that the team at BGB had to do a lot of clever reprogramming in order to trick the GT3 RS into communicating back and forth with with and running normally with the 911 R's transmission. Tecce said that the crew had to work backwards from each light or problem, drilling down each one to whatever was setting it off.

Tecce reiterated that the goal was to make the new manual transmission look and feel like it was installed by Porsche, without having to tell Janev to do a series of fiddly workarounds just to get his car to run properly, hence the need to spend time troubleshooting every warning light that came up.

Of course, while it was there, BGB Motorsports did some additional work to make the world's best 991 GT3 RS even better by opening up the exhaust flow. A Cargraphic longtube stainless steel manifold with 200 cell cats was added to the car while it was in BGB's shop, per a Facebook post they made on the car. The car already had a Sharkwerks center muffler delete system before the swap.
Janev is optimistic about what his manual swap could mean for Porsche fans in the future. His Rennlist thread has generated an incredible amount of enthusiasm from Porsche owners and fans. He credits owners' groups and forums for pressuring Porsche into releasing the refreshed 911 GT3 with a manual gearbox as well.

"Maybe someone will catch word at Porsche," Janev says of his swap. Like many other Porsche owners, he'd still rather buy a manual GT3 RS from the factory. Since he couldn't, he had what he wants built anyway.

"I don't like hearing no," Janev said.

Janek admits the PDK is very good, but he did not appreciate Porsche making up his mind for him on which transmission to buy.
After six weeks at the shop, BGB Motorsports is almost done with the car. It runs, it drives, and is sounds beastly. Because this was the first time anyone ever did this swap, much of that time was spent merely waiting on parts.

Now that they've done one manual swap into a 991 GT3 RS, Tecce is convinced that BGB can do it again much faster—possibly even in a week and a half if all the parts come in beforehand. Overall, Tecce said the swap has cost well over $40,000 including Janev's custom interior parts. $22,000 of that alone went towards the 911 R gearbox.

But is it worth it to have Porsche's ultimate track weapon with the transmission that's the most satisfying to drive on track? You bet. Best of all, you won't worry as much about having fun with a manual-swapped GT3 RS as you would an ultra-low-production 911 R.
If there's anything Janev's quest for Porsche perfection shows us, it's that manual-loving purists don't really want to be left behind by new model years and the latest advances in technology. We're often big fans of the things that make cars more powerful, aerodynamic, efficient and fun to drive. We just don't like the innovations that make cars less involving and take control out of our hands.

Janev's manual-swapped GT3 RS is making the rounds on the Internet, bringing purists of all shapes and sizes out of the woodwork to high-five the guy who's become a Porsche legend overnight.
We're all saying the same thing: please, won't somebody make cars for us again?