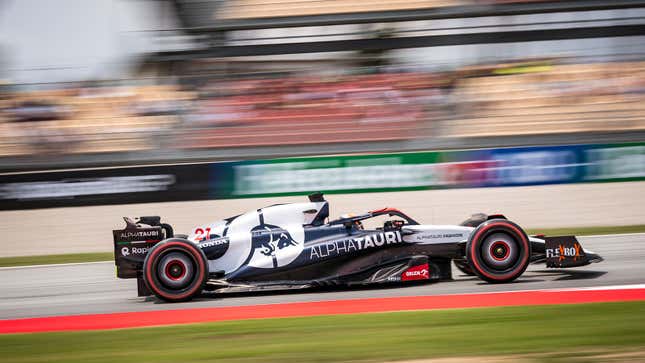 Remember last year, when we were all awestruck by Red Bull Formula 1 driver Sergio Perez and his ability to navigate a race track blindfolded? Well now, a new F1 superpower has manifested itself, as AlphaTauri challenged its drivers with identifying Formula 1 tracks based on engine sound alone.

In the latest installment of its TauriTalk podcast, Red Bull junior team AlphaTauri tasked racers Yuki Tsunoda and Nyck de Vries with identifying tracks on last year's F1 calendar on nothing but engine note. In each instance, the drivers must figure out what surfaces make the car sound bumpy, what corners force them to slow and shift down the gears, and what tracks feature turns that keep them at slower speeds. It's truly incredible.
Despite sounding like a tough ask, Tsunoda is confident in his abilities and says it should be "easy." Then, over the course of the clip (shared below) he and teammate de Vries are pitched against one another, with each racing to identify tracks like Silverstone in the UK and Baku in Azerbaijan as quickly as possible.
Some tracks the two drivers are able to spot straight away, due to the sound of the cars bottoming out as they did a lot last year due to the proposing phenomenon that was brought on by the new regulations. On other attempts, the pair seem stumped, before an iconic section of corners gives the game away.
It's one of those talents that you can't help but be impressed by and, no matter how hard I try, I still struggle to spot the clues that give each circuit away. But then, I guess I haven't spent hours practicing each track on the F1 calendar in a simulator or on-track during practice sessions, junior series or other racing antics.
So, have you tried the game? It starts at around the 33-minute mark in the latest episode of TauriTalk, which is available to watch on YouTube and is linked above. Let us know which you managed to guess in the comments below.