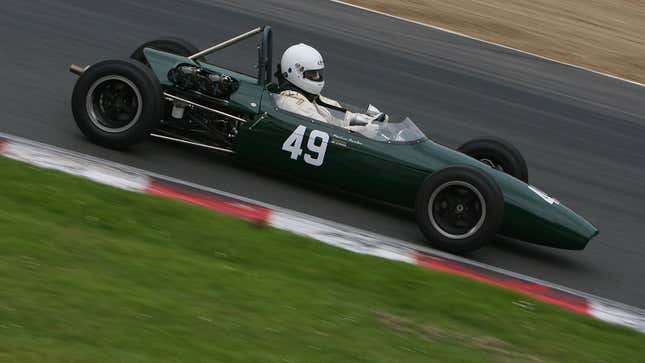 If we're being totally, 100 percent honest, not everybody needs to know how to drive a manual. If you just want to get from A to B with as little effort as possible, you could happily go your whole life behind the wheel of an automatic, and that's fine. But there are times when being able to drive stick is essential, like if you're an Australian car thief trying to make off with a 1960s race car.

Top Gear America Sneak Peek: Dax Drives a McLaren 765LT
In case you missed it:
A troupe of criminals discovered this for themselves late last week, when they were forced to abandon a high-stakes robbery after they couldn't work the gearbox in the car they were trying to steal.
According to 7News Australia, thieves in Melbourne attempted to swipe a vintage Brabham BT21 between Wednesday night and Thursday morning last week. The 1960s racer was developed for Formula 3 and was powered by a four-cylinder Cosworth engine paired with a five-speed manual gearbox.
The thieves must not have been prepared for this ancient tech, as they couldn't get the car working to make their escape. 7News Australia reports:
"The brazen theft was only short lived though, with the thieves struggling to properly switch the vehicle on. The end result was a broken clutch and the vehicle being dumped a few streets away, much to the relief of the owner.

"'I don't think they knew how to turn on all the switches to be able to start it properly,' owner Peter Williams told ABC Radio Melbourne on Friday morning."
Australian police are now appealing for witnesses who might have seen the thieves struggling to get the car running late Wednesday night.
Prior to the break in, the Brabham BT21 had been scheduled to race at the Phillip Island Classic, which took place this weekend. There, owner Peter Williams was due to race it alongside other classic racers like the Tyrrell 012 from the 1980s and the Lola T332 from 1973.