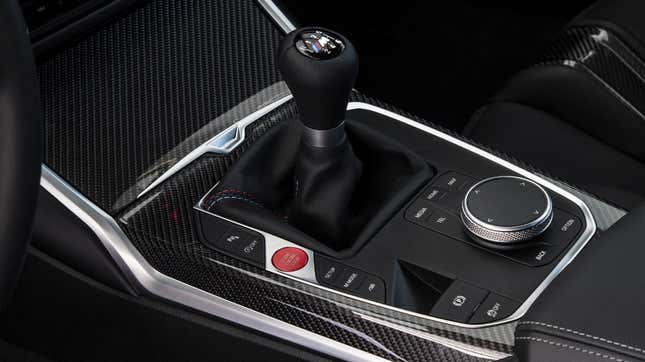 As it turns out, the reports of the manual transmission's death are greatly exaggerated. In just two years, the take-rate on stick-shift cars has nearly doubled. A new report from The Wall Street Journal using data from J.D. Power sheds light on just how many people are choosing to row their own gears in a new car.
In case you missed it:
The data shows that so far in 2023, 1.7 percent of all new-car purchases have been vehicles with manual transmissions. On the face of it, that doesn't sound like a lot, but everything is relative. Go back just one year to 2022, and the manual take-rate was just 1.2 percent. That's a 41.7-percent increase in just one year. Sure, they're small numbers, but that is a trend in the right direction, my friends.
The news is even better when you look back at 2021 – the worst year ever for manual transmissions. Only 0.9 percent of new vehicles sold in America were equipped with a stick-shift in '21. That means in just two years, manual transmission take-rate shot up by 88.9 percent. That's nearly double, baby.
It's not just new cars, either. WSJ's report cites data from Autotrader showing that used-car buyers are searching for manual vehicles at a greater rate. We don't have absolute before-and-after numbers, but the used-car-search website has apparently seen a 13-percent rise in page views for manual cars so far in 2023 compared to last year.
The reason for this uptick? Young folks! We previously reported that millennials and zillennials are fueling this upward trend in manual-transmission sales. Young people love vinyl records and point-and-shoot cameras. Apparently that analog fascination extends to stick-shifts too.
It's an especially interesting trend when you look at the fact that more and more folks are giving up their internal-combustion vehicles in favor of EVs. In an ever-more digitized and automated world, sometimes rowing your own gears is enough to give you a taste of the good old days.