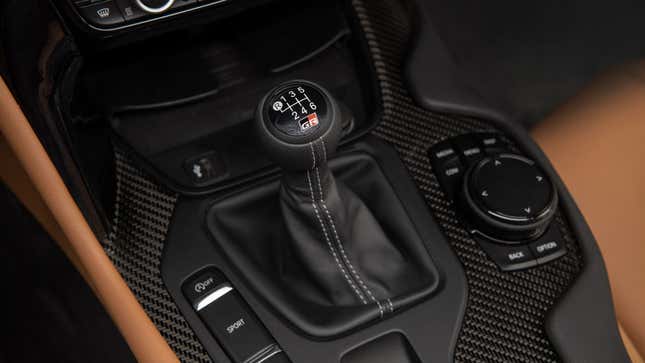 Zoomers and Zillenials aren't ready to give up on the manual transmission just yet. A new report from The Wall Street Journal says that while manuals accounted for just 1.7 percent of total new vehicle sales in 2023, that's actually a tick in the right direction!
In case you missed it:
The report says data from J.D. Power shows that last year, manual transmission sales were at 1.2 percent, and the year before that they hit an all-time low of just 0.9 percent. Autotrader also apparently saw a 13 percent rise in page views for manual cars so far in 2023 compared to the same time last year.
According to The Journal, the reason for the uptick in manuals doesn't have to do with anything other than drivers wanting a more connected and analog driving experience in an increasingly automated world. The contrast is especially stark when you compare it to the fact that more and more buyers are switching to electric vehicles with just one forward gear.
A number of automakers like Mazda, Acura and Mini have been big backers of the manual transmission recently as more and more people seem to want them. Mini recently reintroduced the six-speed to a number of models in its lineup, and Acura brought back the manual on the Integra. It's the first time since 2015 that the automaker had a manual transmission vehicle.
The article asserts that younger buyers are choosing vehicles with manual transmissions for the same reason they are choosing things like vinyl records and point-and-shoot cameras. More than half of the buyers who opted for a manual Integra are between 18 and 46 years old, and around a quarter of the buyers who bought a manual Miata in 2022 are between 18 and 35.
Mini – an automaker who just opened a manual driving school of its own – reportedly did a recent survey of a tick over 1,000 drivers. It found that two-thirds of folks between 18 and 34-years-old are eager to learn how to drive a stick shift. That's a big jump over the 40 percent of older respondents who don't already drive manuals.
"It's not a statement against electric cars so much as I'm going to try to enjoy the type of driving that's the most to me until I can't anymore," Lucas Marcouiller, a 26-year-old who has purchased three manual vehicles in the past, told The Wall Street Journal.
According to the article, manufacturers sold 43 different manual models in 2022. That's down from a very nice 69 different models in 2019, so it seems like for a lot of younger folks, the used car market is the answer for a manual transmission fixation. That being said, the hashtag #SaveTheManuals has reportedly become a very popular rallying cry on TikTok. Posts with the hashtag have gotten around 435 million views on the social media site.
So, while boomers say Gen Z is killing homeownership, chain restaurants, and hookup culture, you can thank us for saving the manual.