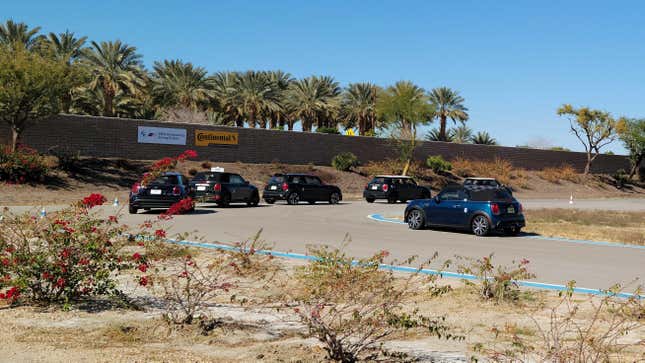 When most people learn to drive a manual transmission, they're worried about stalling the engine at a traffic light. When I learned how to drive a manual, an instructor was telling me over a walkie-talkie to brake later for a corner on a racetrack. I had a few issues getting acclimated, but by the day's end, I was looking to drive as fast as I could.
Learning to Drive Stick-Shift at Mini Manual Driving School
Mini recently launched a manual-transmission driving class at the BMW Performance Driving School in Thermal, California. While there are two other BMW Performance Driving School locations in Spartanburg, South Carolina and Indianapolis, Indiana, the Southern California location will be the only one to offer the Mini Manual Driving School. Located on the grounds of the Thermal Club, a multi-million-dollar private motorsports country club, the program offers attendees the opportunity to practice driving a stick-shift without worrying about pissing off every driver around them, taught by a professional on a closed course.
When Mini announced this new program, it seemed like the perfect opportunity for me to shake the rust off of my stick-shift driving skills. I learned how to drive a manual as a teenager in the late 2010s, on a family friend's late-1960s Fiat 500. But I've never owned a manual car, and after my first lesson on a gravel road on Long Island, I never got the chance to build further stick-shift experience. The two cars I've spent most of my life driving, a 2006 Cadillac DTS and a 2016 Toyota Corolla, are automatic. So when Mini invited me to stick-shift school, I jumped at the chance.
Full disclosure: Mini put me on a flight out to Palm Springs, CA to be part of the inaugural class of the Mini Manual Driving School, and supplied my lodging and food while I attended the school.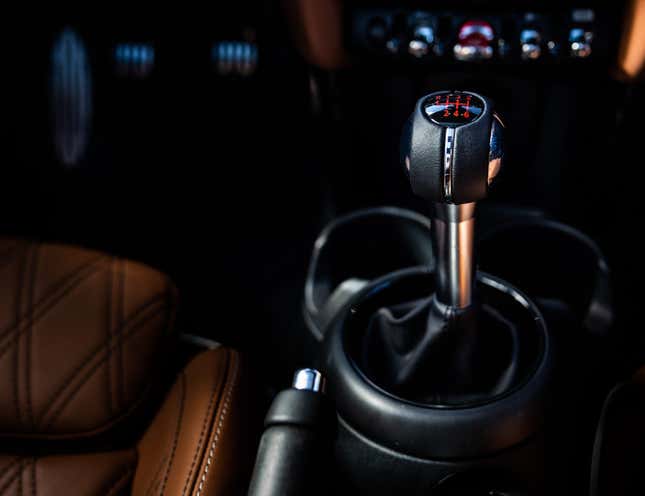 The Mini Manual Driving School starts in the classroom. The school's lead instructor, Rob Stout, opened the day by asking the class if anyone came with manual driving experience already. Glancing around the room full of journalists and influencers, I only saw two other people raise their hands. Stout has more than a decade of racing experience and has won two touring car championships at a national level, so he was more than equipped for our room full of novices.
The focus quickly turned to the car. Stout explained the strategy of how you shift through the gears in a manual-transmission car by comparing the process to riding a bicycle with multiple gears. He emphasized that you need to push the clutch pedal all the way to the floor with force, then gradually lift off the pedal as you apply throttle. Stout also explained how to set up your seating position to use the full range of motion of all three pedals comfortably. He instructed us to sit close enough to the steering wheel to turn it 180 degrees without having to adjust our grip.
After leaving the classroom for the track, we met our instructors for the day, Christopher Hill and Loni Unser. Hill has been teaching high-performance driving for nearly 20 years and has multiple manufacturer instructor certifications. Unser currently races in the production-car-based World Racing League. She's also a member of the legendary Unser racing dynasty that has won the Indianapolis 500 nine times.
Each student was assigned a manual Mini to drive — either a 2-door hardtop, a 4-door Clubman, or a convertible. Hill and Unser double-checked our seating positions and ensured that our walkie-talkie radios were functioning. They guided each of us to shift through all six gears in the transmission while standing still, to get used to the action of the shifter. Then we were off and running.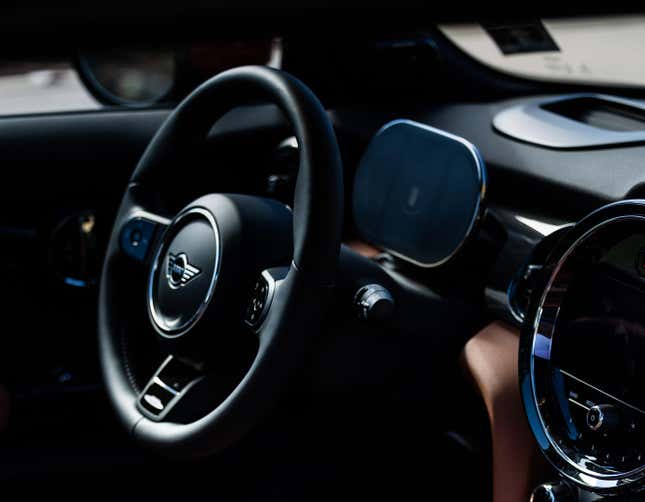 While the Minis we used for the class were factory stock, they already had a few features to make manual driving easier for a beginner. The digital dashboard shows which gear you're in, so you don't need to look down at the shifter. And when you stall the engine in a new manual Mini, the engine stop-start system automatically restarts the engine any time you're stopped with the brake and clutch depressed.
Hill sent us out on track one by one with a reminder of what we should focus on during that segment. The first exercise was repeatedly starting and stopping, holding the engine at around 1,500 rpm while easing out the clutch. I stalled twice during my first few laps, as I lifted off the clutch pedal too quickly, but soon enough, I got into an easy rhythm. We would stop by Hill at the end of each lap, so he could give us tips and answer questions. Unser was stationed on the other side of the course if we needed any help in the middle of a lap. Hill's first tip to me was to use more power when launching from a standstill.
Next, we worked on starting from a stop, shifting up to second gear, continuing for a second, then slowing down to first, and stopping. That's where I ran into some issues: I just couldn't get my Mini to consistently shift up to second gear. The shifter tended to stick in neutral. Hill told me that the gearbox should naturally gravitate up to the next gear, and I realized I was using too much force on the stick. Downshifting wasn't an issue for me as I always adhered to Hill's cautious advice to always press the clutch while braking. Once I got through that mental barrier, it felt like the world opened up for me, and I was shifting up and down with ease.
The relatively small confines of the short autocross course meant that we couldn't maintain the speeds to learn more advanced concepts. Heel-and-toe shifting and rev matching weren't vital at slower speeds and shifting between first and second gears during the repeated exercises.
For our third and final half-hour session, we were given free rein to lap the short track, stopping only for a quick check-in with Hill each lap. The instructors told us not to go past third gear, but we were easily able to hit 55 mph on the longest straight. All the pieces started to come together during that last segment. I was starting to push for speed, and the instructors noticed. Unser encouraged me to start braking later at the end of the long straight to carry more speed into the corner. All the students were on a single radio frequency, so we all witnessed each other as the instructors' survival tips were replaced by advice to go faster by the day's end.
As we got out of our cars at the end of the program, we were all smiles. We wanted to keep driving. While you won't leave the Mini Manual Driving School as an expert, drivers will have the foundational knowledge necessary to safely drive just about any manual transmission vehicle on the open road.
I wish I could replace my current car with a manual, but I share it with my brother, and he can't drive stick. I don't have the space in New York City to buy a second car, but after the Mini school, I'll jump at the chance to drive any stick-shift I can. This time, I won't let my manual skills collect another decade of rust.
Registration is now open for the four-hour Mini Manual Driving School at a price of $499 per person. If you're near Palm Springs, or heading there for a visit, Mini's school is a great way to practice the basics of driving a stick shift without risking your own car, or a friend's.