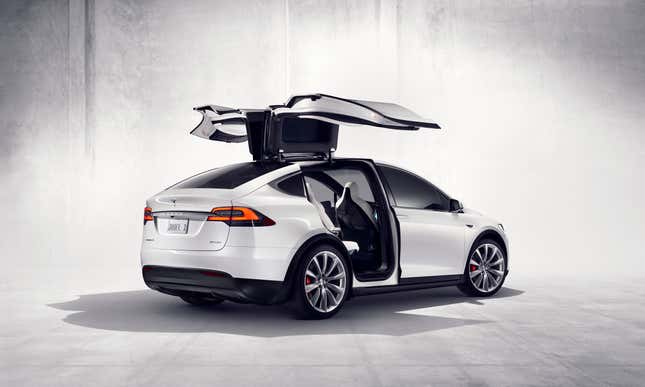 Being a thief is dumb. But you have to be a special kind of dumb to attempt a robbery in an electric car that doesn't have enough juice. But apparently thieves that dumb exist; Business Insider reports that thieves attempting to get away in a Tesla were caught by police after they stopped to charge the car.

Tesla's Model Y is The Most American-Made Car
In case you missed it:
The robbery took place in Buford, Georiga on February 19th. Allegedly, the two suspects stole $8,000 in everything from video game systems to electric toothbrushes from a Sam's Club. The two then fled the store with authorities receiving calls from witnesses that they were in a Tesla. (While they didn't exactly say what Tesla model they were in, images posted to Twitter by Gwinnett County Police shows the inside of the Tesla, and it's clearly a Model X.)

The duo must have realized they weren't going to get very far not long after leaving the store. Authorities say the thieves were caught just 10 miles from the Sam's Club after they stopped to charge it. It's not known if the Tesla was owned by the thieves. But considering that they just robbed a Sam's Club in broad daylight, I'd wager it wasn't.

Electric cars and their tech may soon be similar to cars equipped with manual transmissions in that they'll help stop thieves. And as Business Insider pointed out, this isn't the first time something like this happened. In 2019 a woman in Arizona tried stealing a Model S, but it ran out of charge as she tried to drive away in it. In 2020, another thief tried stealing a Tesla Model 3 in an attempted carjacking. When the carjacker forced the Model 3's owner out of the car, he remotely locked it with his phone, trapping the carjacker inside.