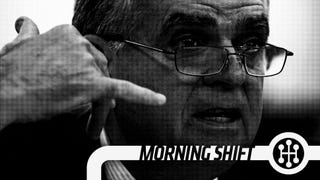 This is The Morning Shift, our one-stop daily roundup of all the auto news that's actually important — all in one place at 9:00 AM. Or, you could spend all day waiting for other sites to parse it out to you one story at a time. Isn't your time more important?
Dieter Zetsche, the former CEO of the former merger-of-unequals called DaimlerChrysler and now the CEO of the unmerger-of-unequals called Daimler, stopped by his former underlings at Chrysler Monday during the Detroit Auto Show.
Mercedes had everything they needed today for the debut of the Concept A-Class in Shanghai: Dr. Z, a crappy American rapper, a Chinese movie star, and a working car. Oh, wait, they were missing that last thing.
Last night a Big XII team won the NCAA National Championship, but it wasn't Bobby Knight's former Texas Tech Red Raiders, who failed to get an invite to either the NCAA Tourney or the NIT. But Bobby Knight did get an invite to reprise his role as an angry, sad man in this VW commercial, which is part of the Das Auto…
Dr. Tobias Zetsche, you blowhard! First you tell us to put down $99 deposits on your little Smart Fortwo. Then you tell us that the 30,000 deposits exceed production capacity. "Down payments are going far beyond the production capacity we have," said Zetsche, who refused to elaborate on what that actually meant. The…
DaimlerChrysler Chief Deiter "Tobias" Zetsche says everything is great since they dumped Chrysler. Seriously. They feel great, look great and are seeing new people. They'd have totally made a profit last quarter, but they needed time to get over the breakup (and related charges). Things are looking up for old Daimler…