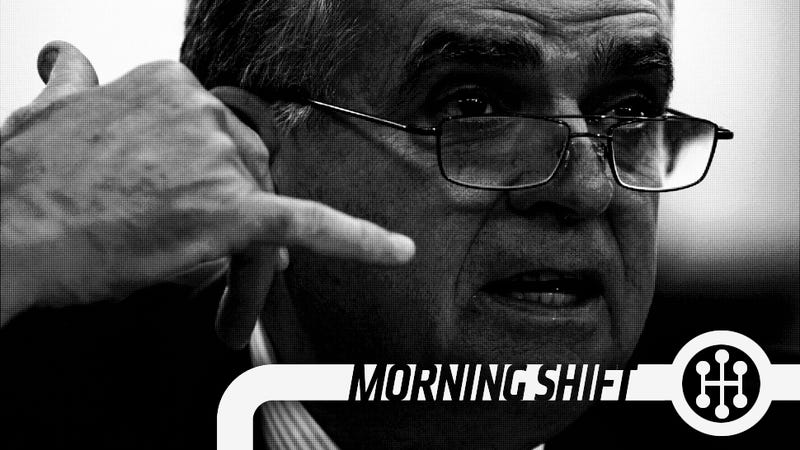 The Morning Shift
All your daily car news in one convenient place. Isn't your time more important?
This is The Morning Shift, our one-stop daily roundup of all the auto news that's actually important — all in one place at 9:00 AM. Or, you could spend all day waiting for other sites to parse it out to you one story at a time. Isn't your time more important?
1st Gear: I Learned It By Watching You!
A study from the University of Michigan found that 90% of drivers admitted to using a technology-based distraction like a cell phone in front of their kids in the past, reports David Shepardson. Wait, we thought only teenagers were doing it?
We're not actually surprised, of course, as it's one of those universal activities we all know we shouldn't do. What's interesting is that parents with kids 1-to-12 years in age are more likely to have been in a crash than other cohorts.
However, the study included things like "getting directions from a navigation system" or "changing a CD" as a distraction. Indeed, those are distractions, but it's not the same as googling facts about Joe Pesci.
2nd Gear: Chevy Is Making Big Gains In China Thanks To Soccer
Hey, remember that time GM fired Chief Marketing Officer Joel Ewanick because he spent $600 million to get GM on a soccer jersey?
Turns out that the Manchester United sponsorship is having a large impact in soccer crazy China. Here's a key line from The Detroit Free Press:
"The point is for China, this is just a home run," said Richard Choi, director of Chevrolet marketing in China, in an interview at a Shanghai Chevrolet dealership. "Not to mix my metaphors."
China is the world's biggest car market and any help GM can get there is a win for them. Though Ewanick was allegedly fired for not properly disclosing the cost of the deal, we're curious to hear what his response will be to the success of his program.
3rd Gear: U.S. Is Selling More Of GM
The Treasury will continue to offload GM stick reports Reuters. Roughly 241.7 million shares remain in the hands of the government and both the current administration and the GM leadership would like to see that number drop to zero.
So far the U.S. has taken back about $30.4 billion of the $49.5 billion that was used, via TARP, to save GM's bacon. At the current rate of about $32 a share, the government will still lose billions on the deal.
4th Gear: Skoda's New Car Is Worth A See
This year's Wörthersee Volkswagen meet has already seen a Seat Leon Cup Racer and the Audi TT Ultra Quattro Concept. Now we're getting a hint of Skoda's contribution, the "Skoda Rapid SPORT."
There's no hint at the drivetrain but the vehicle gets "Corrida Red" and "Steel Gray" colors, large 19-inch wheels, and flared fenders. Yipee?
5th Gear: India Strong
In our guide to driving in India we touched on the ceaseless clamor that accompanies all but the most remote sojourns within the country.
From this report in The Wall Street Journal we learn that a group of anti-honking crusaders are trying to educate the country's drivers as to when (and mostly when not) to use the horn:
Do honk to let someone know they're stuck at a light/ Do not honk because the light is red, there's a full moon, it's your sister's birthday, you just saw a bird.
Reverse: A Merger Of Non-Equals
On this day in 1998, the German automobile company Daimler-Benz—maker of the world-famous luxury car brand Mercedes-Benz—announces a $36 billion merger with the United States-based Chrysler Corporation.The purchase of Chrysler, America's third-largest car company, by the Stuttgart-based Daimler-Benz marked the biggest acquisition by a foreign buyer of any U.S. company in history. Though marketed to investors as an equal pairing, it soon emerged that Daimler would be the dominant partner, with its stockholders owning the majority of the new company's shares.
[HISTORY]
Neutral: Soccer Good? Soccer Bad? Who will have the last laugh in the Man U deal? GM if it fails. Ewanick if it succeeds? GM if it succeeds. Ewanick if it falls?
Photo Credit: Getty/AP Images