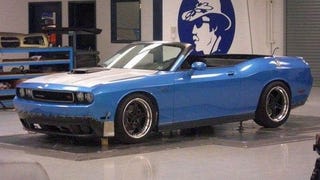 Mopar fans aching for your own convertible muscle car, DropTop Customs is creating a Dodge Challenger RT Convertible. Other than open-air tire smoke baths, it's got structural reinforcements, a new fascia, hood scoop, and probable power improvements. [Zercustoms]
This is the first image of the refreshed 2011 Dodge Challenger. No, we're not foolin' — front-end changes are limited to the lower grille being flipped upside down from a smile to a frown. Comparison image below.
The 2009 Dodge Challenger R/T Classic trim-level brings bigger stripes, functional hood scoops and a low-restriction exhaust to the Mopar muscle car, bringing the 5.7-liter HEMI up to 376 HP and 410 lb-ft of torque.
If you watched yesterday's episode of Top Gear — specifically, the American muscle challenge you may have noticed a rather cherry vintage R/T Challenger in the background. The car belongs to Mark, an Englishman with a penchant for vintage Mopar muscle and a willingness to share the car with others. In addition to the…
What comes to mind when you think of the color orange? No, besides pumpkins. That's right, the Dodge Challenger! Now, you can combine the two and make a Challenger-o-lantern, just in time for Halloween. We know, the example provided by Dodge doesn't exactly show off their pumpkin chopping skills, but they've at least…
We're stoked that Chrysler is offering a Dodge Challenger Drag Pak turn-key racer, but how exactly do you go about ordering one from your local Dodge dealer? Since these mighty Mopars are going to be limited production, you gotta prove you're worthy. First, you're required to submit your application in writing to a…
The Mopar Underground folks are prepping a 2009 Dodge Challenger R/T for unveiling at this year's SEMA show. They've got a plan: make the car as long and lean as possible, with inspiration from the 1970 Challenger T/A; what they don't have is a name. The folks at Automobile are helping out by photographing the build…
The brochure for the new 2009 Dodge Challenger has hit the automotive webosphere and Mopar-mad fan-boys are drooling over an item we think will be an instant classic. The car? At this point, unknown. But the brochure will totally hit the "Found on EBay" pages shortly. That's because Dodge has created a gorgeous piece…
Chrysler's finally telling us just how much it's going to cost to cruise Woodward in their latest retro muscle coupe. Or at least what they suggest the retail price should be; no telling what dealers will decide the buying public ought to fork over for the privilege of piloting a Challenger. The 2009 version of a…
They may have taken his company, his cars and even his name, but they'll never take Steve Saleen's desire to customize cars to make them look so radically similar to the originals, they're virtually identical to all but the most carefully trained eye. Saleen and his new company SMS have just revealed the new company's…
Anybody else having a strange feeling of deja vu? You should because it was only a month ago that we watched Dodge unveil the 2008 Dodge Challenger and a month later they are back, unveiling the three different Challenger models for 2009. Included is the Dodge Challenger SRT8, the Challenger SE and the Challenger R/T.

…