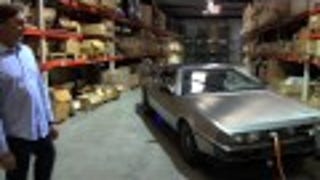 We may have already driven DMC's electric Delorean, but Matt Farah does it on video. So here it is, and now let's see if we can get out of this post without any Back to the Future references. Instead, let's pretend the Delorean starred in another 1985 film, Brewster's Millions, with Richard Pryor and John Candy.
Hidden in the suburbs of north Houston, at the edge of the Piney Woods, is the DeLorean Motor Company's new HQ. We've toured it before and think this video captures the amazing place quite well.
If you enjoyed the art of Robert Bleier, the cancer-surviving DeLorean painter, and are in the Houston area, you can see it on display tomorrow at a show benefiting cancer research. Details below.
Byron Cancelmo of the DeLorean Motor City car club showed off the first arrivals of about 12 expected Belfast-born sports cars on Woodward Avenue today. The club sometimes has as many as 20 cars show despite the fact they've grown primarily from word of mouth with no real organization. Additionally, James Espey from …
The first time I saw the gullwing doors on a DeLorean DMC-12 open, in Back To The Future, it was abundantly clear something important was happening. Something cool. Then I learned that it had a chassis engineered by Colin Chapman and a body designed by Giorgetto Giugiaro. Then I read about the cocaine and the stunning…