How many of us have dreamed about packing it all in and heading off on an around-the-world adventure? Roughly once a week, I think about loading my life into the back of a van and setting off on a journey like this. Sinje Gottwalt went beyond the daydreaming stage, plotting a trans-continental motorcycle adventure and setting off to make it a reality. To complete the adventure, last year she set off to ride across Africa on an electric dirt bike. That trip became the longest distance ever covered on a battery-powered motorcycle, and brought to a close the 'round-the-world ride Gottwalt began back in 2017.
In case you missed it:
When Gottwald first started her 'round-the-world adventure, she set off solo on a BMW R100GS PD, riding across Europe and into Central Asia. She then crossed south, sailed to Australia, crossed that continent, and headed over the Pacific into South America. From there, Gottwald rode north through Bolivia all the way up to Canada, and then crossed the Atlantic to Africa.
"I got my license in 2008 and then did smaller adventures, from Germany to Morocco for example," Gottwald told Jalopnik on a recent video call. "I did a lot before, but never on this scale. And never really on my own, so that was very different."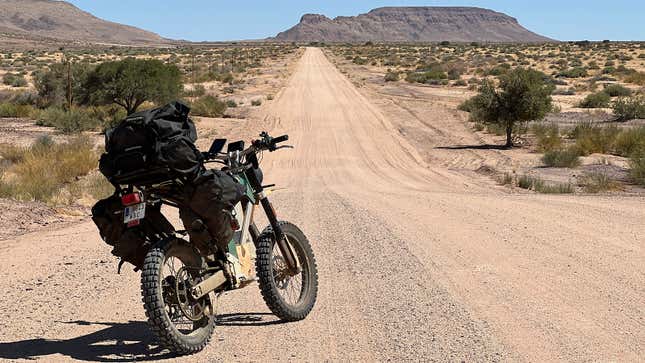 Gottwald's ride around the world took her across the Pamir Highway, over mountain passes that topped 13,000 feet above sea level, and introduced her to some of the "friendliest people," she says. It took her three years to reach Africa, and the timing couldn't be worse: She was entering the closing stages of the trip right as the global COVID-19 pandemic began to take hold.
"When I was in Mali, in Bamako, the pandemic started," Gottwald told Jalopnik. "So, I had to decide whether to stay there and wait to see if it gets better. Of course, it didn't get better, so I drove back to Senegal, left the bike there and flew home."
This left her 'round-the-world ride on indefinite pause. Gottwald had planned to take her BMW from Morocco all the way down the west coast of Africa to South Africa, where she would conclude her adventure. But after flying home due to COVID-19, the trip was left feeling like "unfinished business," she said.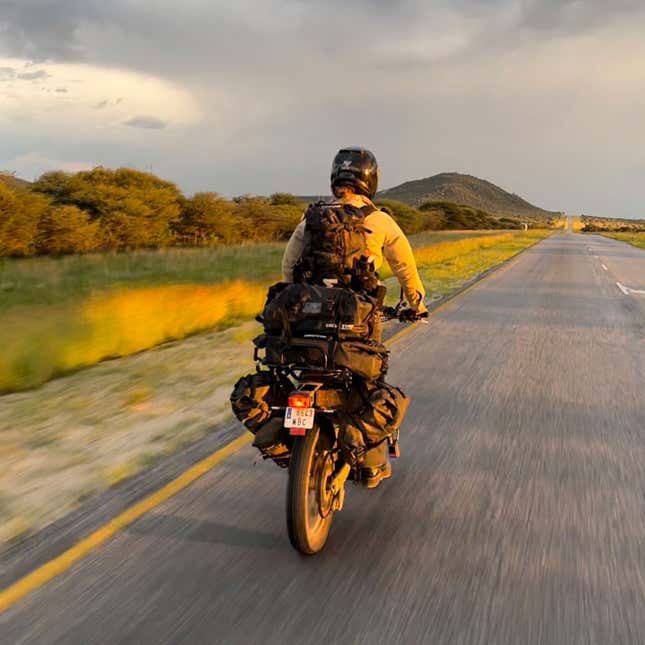 The ambition to finish the journey never left Gottwald and, while plotting her eventual return to the open road, she started a new job with electric motorcycle maker Cake. Founded in 2016, the Swedish company ships a range of high-tech electric motorcycles for off-road riding or hauling gear around town.
"The idea of doing a longer trip on a motorcycle didn't come up because of working for Cake, it was the other way around," explains Gottwald. "I had this idea for many years and when they hired me I took the first chance to talk to Stefan [Ytterborn, founder and CEO of Cake] and say, 'hey, this is my idea.'"
Charging Into the Unknown
Gottwald says most people thought she was "crazy" for believing that an electric bike could manage a ride like the one she had planned. Nevertheless, Ytterborn was "surprisingly" open to the idea, and supported her on this final leg of the journey.
To complete her 'round-the-world ride, Gottwald planned to depart from Barcelona, Spain on October 14th, 2022. She would sail across the Mediterranean sea into Africa and head south to the bottom of the continent, finally bringing her mammoth ride to an end after five years and one global pandemic. But instead of taking her trusty gasoline-powered BMW, Gottwald switched to battery power, saddling up on one of Cake's own Kalk off-road electric bikes.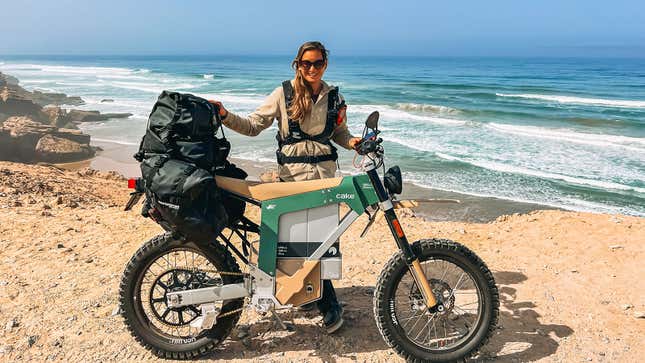 "So the first one was with a BMW R100GS PD, which is a big bike," she explains. "It has 1,000 cc, it's super comfortable and has lots of space. Now, I have an electric motorcycle. There's limited space because I have soft panniers, and it's a very light bike."
The two bikes, Gottwald says, could not be more different. Swapping onto the Cake meant a new riding position to adapt to, a new seat to get comfortable on and a new way of controlling the bike, thanks to the Kalk's "very linear acceleration," Gottwald explains.
Once Gottwald was comfortable on her new ride, the electric bike did bring some advantages. Because it's so light, Gottwald says the Cake could tiptoe across muddy tracks where a traditional bike might struggle. Running on electricity also made the trip considerably cheaper than having to fill up with gas every few hundred miles. But that doesn't mean that the switch to a battery-powered bike was problem-free.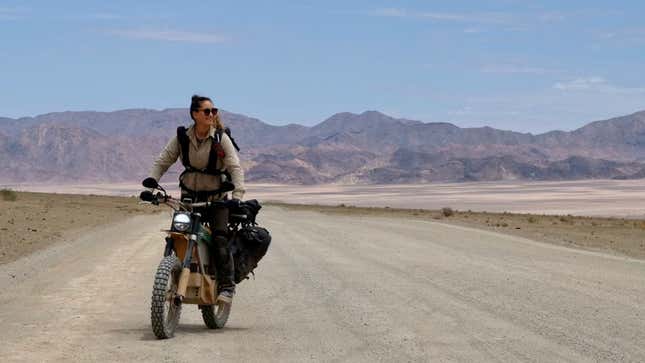 "Obviously the benefit of the BMW was the range," says Gottwald. "I'm not gonna try to brush over that and say that the bike was great and the range was not an issue."
Gottwald had a system in place for the trans-African adventure. She set off from Barcelona carrying two batteries for the electric bike, each giving around 30 to 40 miles of range. This meant Gottwald could ride for a few hours, swap batteries, and set off once more. Then she would find a place to charge before repeating the process once again. In total, this system meant she was able to cover as much as 124 miles each day.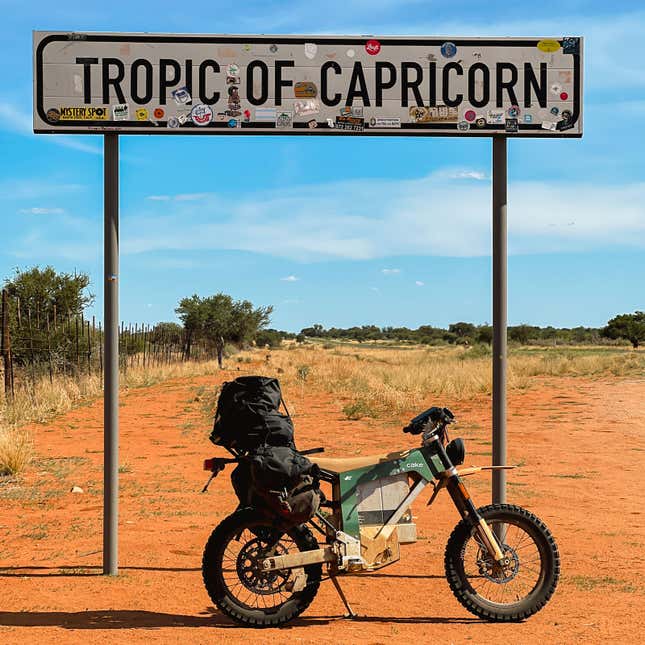 Of course, this range wasn't set in stone, and different conditions and varying roads would all impact the distance Gottwald could cover in a day.
"Homologated, the bike has 89 km [55 miles] per battery," she says. "In Morocco, I had a straight road, a highway, no hills, no wind, and I could go 92 km [57 miles] with one battery. But that was only Morocco, and after that I had bad roads, wind, hills, everything. Then that doesn't work anymore."
When her batteries were depleted, Gottwald would need to find a place to plug in. Cake previously worked with Goal Zero to create a packable solar charger that it offered to rangers in South Africa, but Gottwald decided against it. "I would have had to carry too much, and it would have taken too long," she says. "So I really had to find places with electricity."
Those places included hotels, where Gottwald would stop and charge overnight, as well as daytime pit-stops that would see her plug in for three hours to top up both batteries. Oftentimes, she'd stop and use a generator in a remote village, where the locals would often let her plug in her batteries free of charge.
Proving the Impossible is Possible
The other issues that came with running an electric motorcycle weren't as expected. For example, Gottwald's Cake was an eye-catcher that grabbed the attention of the locals in towns and villages that she passed through. While on the whole most of these encounters were nice, it wasn't the kind of attention the German was used to.
"The interest in the bike was so big that wherever I stopped, I had so many people just gathering around me," says Gottwald. "That was also kind of difficult or dangerous in some places. Because, if there's too many people, there is the possibility of things escalating." She explained that the draw of the electric bike was so fierce, at times she had to make sure she didn't end up in the middle of a fight as people jostled around her "yelling and getting physical."
One thing Gottwald didn't have to worry about: Maintenance. Across the 8,000-mile journey, the only hitch she encountered was a burned-out fuse in Morocco. Other than that, Gottwalt told Jalopnik, the only tinkering the bike required was the occasional greasing and adjusting of the chain.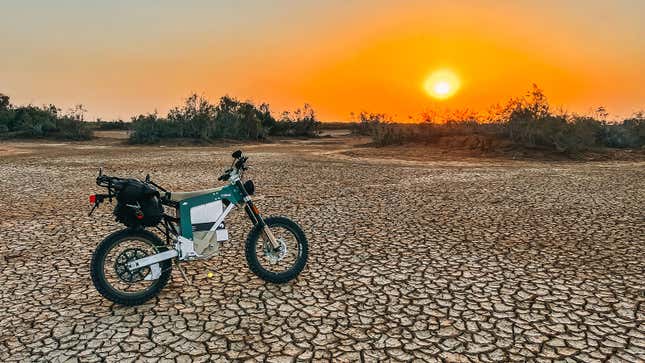 Gottwald finally finished her trip in South Africa on February 15th, 2023, after 124 days on the road. In the process, she became the first person to cross Africa on an electric motorcycle, and set a record for the longest trip covered on a battery-powered bike.
"I wanted to see for myself if the impossible is possible," says Gottwald. "Before I left, almost everyone said I wouldn't be successful. They said it is not possible at this point. I know that it did change people's perspective, and even though I realized that electric bikes are not there yet fully, I hope that at least some people's ideas will change and they will open up a little bit towards electric motorcycles."