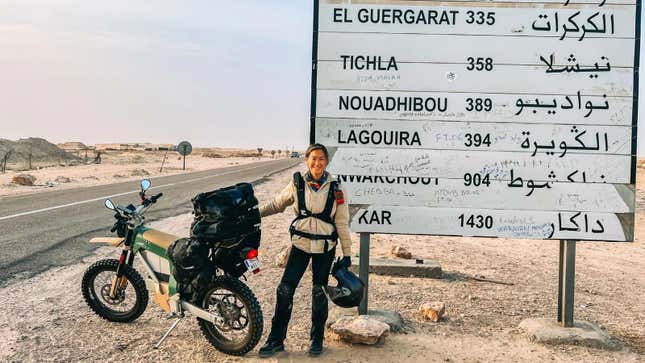 As EVs become more regular on the roads, it's becoming more common to hear moaning about EV ranges and how limiting ranges of 200 miles per charge can be. Electric ranges don't have to be limiting, though, and one person has gone out of their way to show just what EVs can do by riding one all the way from Spain across the entire African continent.

2024 Nissan Z NISMO | Jalopnik Reviews
Sinje Gottwald set off from Barcelona, Spain, to ride an electric Cake Kalk motorcycle down the west coast of Africa, passing through countries including Guinea, Nigeria, Angola and Namibia before finishing in South Africa. In total, the ride saw her cover more than 8,000 miles over 124 days – including 140 stops for battery recharging.
"Finding places to charge was the hardest part," said Gottwald in a press release. "In some areas it was extremely difficult, and I had to plan the day very thoroughly. Many times, I didn't know if I would find a place to charge at all!"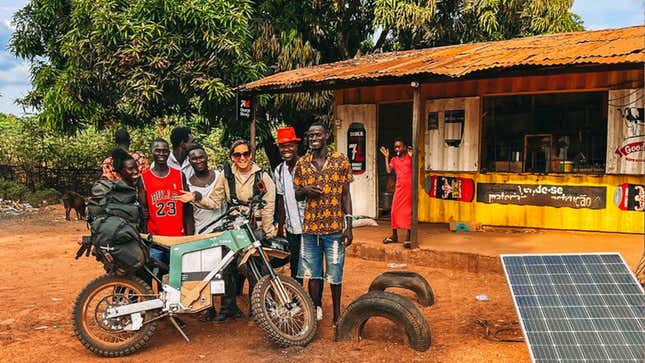 Gottwald covered the entire continent of Africa unaided by technical or medical support and, in the process, became the first woman to cross Africa on an electric motorcycle.
She added: "I had a couple of minor crashes in difficult terrain at low speed, but more than once I was almost run over by cars; traffic is crazy and cars that overtake don't leave any space!"
To cover the 8,000-mile journey, Gottwald set out from Spain with two batteries for her Cake Kalk AP bike. She also took two chargers and spare parts including a controller, display, throttle, chain, and fuses, as well as a laptop in case her bike needed a software update mid-ride.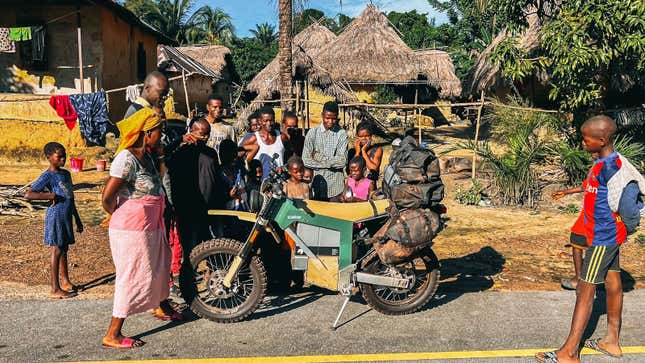 Gottwald hit the road on October 14, 2022, riding to the southern tip of Spain where she took a ferry across the Mediterranean sea to Morocco. She then tackled the sand of Morocco, before heading into Mauritania and Senegal.
The first challenges of the trip rolled in when Gottwald reached Guinea. There, she traversed muddy and waterlogged jungle tracks.
Along the way, the only issues Gottwald encountered came when the desert sand wrought havoc on her fusebox. Other than that, Gottwald was just caught out by long border crossings and crazy traffic – all things that would impact any gas-powered bike rider as well.