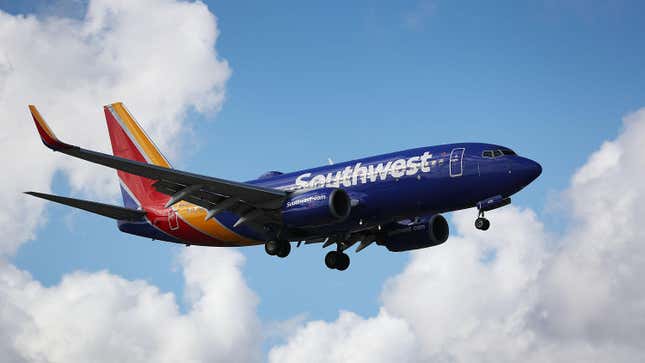 A passenger aboard a Southwest Airlines flight who just happened to be a pilot for another airline helped land the plane after its captain was "incapacitated" and required medical attention, according to NBC News.
This NYC Garage Takes Vanlife To The Next Level | Jalopnik Visits
In case you missed it:
Southwest Flight 6013 was headed toward Columbus, Ohio from Las Vegas, Nevada on March 22nd when one of its pilots "needed medical attention," a spokesperson for Southwest told NBC News. They did not give any details on what exactly happened with the pilot, but nevertheless the flight turned back to Vegas.
According to the outlet, in radio traffic data archived by the website LiveATC, you can hear a person saying the captain started feeling stomach pain and then "fainted or became incapacitated" about five minutes later. The person on the radio then says the captain "came back" about a minute later, and they were being taken care of at the back of the plane.
"We need to get him on an ambulance immediately," the person on the radio reportedly says.
It was then that a "credentialed pilot" from another airline – who just happened to be a passenger – entered the flight deck and helped with radio communications as the other Southwest pilot flew the aircraft. So, it wasn't exactly a scene out of the movie Airplane, but it's still cool to see.
"We greatly appreciate their support and assistance," the spokesperson told NBC News.
The plane eventually landed without incident back in Las Vegas. An alternate crew took over from there, and the flight to Columbus was put back on track.
"We commend the crew for their professionalism and appreciate our customers' patience and understanding regarding the situation," the spokesperson said to the outlet.