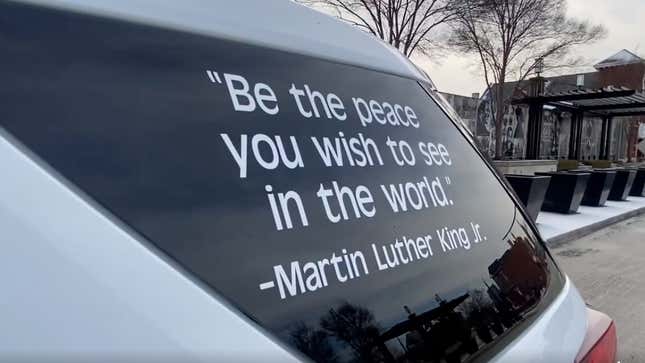 Every year it seems as though the things people, cities, or agencies do to "celebrate" Black History Month get worse and worse. From blatant racism disguised as honoring Black achievements to things that are just verifiably wrong, it's really sad. In another one of those instances where you may think "How could they have gotten that wrong?" Vice reports that the police department in Columbus, Ohio has put a fake Martin Luther King, Jr. quote on one of their patrol cars for Black History Month.
In one of a few instances of horrible Black History Month cop cars, Columbus PD debuted the patrol car they dubbed "History 1." In a post on Instagram showing the car, the department said History 1 is meant to "celebrate the achievements of African Americans and recognize their roles in our history. We're proud to highlight all the men and women who've been trailblazers — from activists and civil rights pioneers to leaders in politics, culture, and law enforcement." The video for it is cringe enough... but it keeps getting worse.

On the rear driver-side window is a quote attributed to Dr. Martin Luther King, Jr.: "Be the peace you wish to see in the world." It's a good quote, one that we should all follow right? Except MLK never said this.
You'd think a police department with a budget of over half a billion dollars would know that. And while MLK frequently spoke of nonviolence, multiple experts on MLK and his speeches and sayings found no evidence that King ever said this specific quote. From Vice:

"I haven't found any traces, and it doesn't appear in the addresses and writings I know best," Earl Schwartz, an associate professor of religion at Hamline University who has written on King's "Letter from a Birmingham Jail," told VICE News in an email.

And Clayborne Carson, the Martin Luther King, Jr. Centennial Professor, Emeritus at Stanford and the founding director of the King Institute, told VICE News that it was "obviously impossible to disprove the claim that he once said those words," but that "the King Papers Project that I directed for more than 3 decades didn't find evidence that MLKJ ever said this."
Even Google gets this wrong, as typing in that quote in the search bar brings up results attributing the quote to King. This quote has also been attributed to Gandhi, but that appears false as well. Vice reached out to Columbus PD for a statement on the car. They didn't even acknowledge it, instead mentioning that the cruiser used for the Black History Month celebration is one that's used over and over again for different holidays and special events.
Adding insult to injury, a report from 2021 shows that of all the use of force incidents the Columbus police department recorded between 2017 and 2019, over half of those were against Black people, even though they only make up one-third of Columbus' population; of the 36 people that Columbus police have shot and killed since 2015, nearly 70 percent of them were Black. Those aren't statistics that one decorative police cruiser will be able to solve.