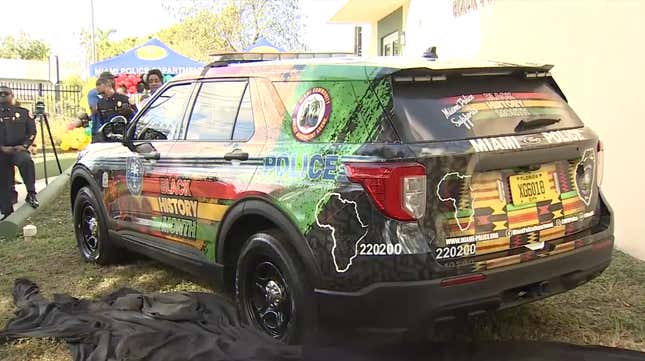 Despite very public stories about police needlessly targeting and sometimes killing Black people, Miami-Dade police thought the best way to celebrate Black History Month would be to splash an expensive, tacky, tone-deaf wrap on a patrol car.
Update, February 3, 2023 1:55 p.m. EST: This report originally indicated that this sort of tastelessness could only come from Florida, but we were wrong to underestimate Ohio. Columbus Police are now also proud owners of a Black History-themed police cruiser. We regret the error.  
The cruiser, unveiled Thursday, has strong "graphic design is my passion" vibes. The continent of Africa appears several times on a vehicle supposedly meant to celebrate Black Americans (which...did Miami of all places forget Black Caribbean Americans?) and that's just step one of the whole confusing and performative design. For me, the outline of raised fists on the side of the cruiser really takes the cake. This symbol of Black people's fight against oppression now graces the type of vehicle most closely associated with state oppression.
The introduction of the cruiser occurred at the site of a formerly segregated Miami police station once meant for Black officers, Black judges and Black offenders. The station closed in 1963 and is now a museum. From Channel 7 News:
Miami Mayor Francis Suarez and Miami Police Chief Manuel Morales were on hand at Thursday afternoon's unveiling, as they came together to remember and honor history.

"This is a beautiful collaboration to commemorate Black history and Black History Month and the history of African Americans and our police department and our city," said Suarez. "This is Black history."

The moving moment took place at the Black Police Precinct and Courthouse Museum along Northwest 11th Street.

Riiiight. These are the same Miami cops that told a Black driver "this is how you guys get killed out here, man," when it took him a moment to find his paperwork last summer. The Miami cops who ticket white people for pot, but arrest Black people for the same offense. Just last year, three Miami-Dade County police officers faced criminal battery charges in three separate incidents. In 2021, three more officers faced charges in the brutal arrest of two Black men. Or there's the Miami officer who punched a pregnant woman while she was experiencing a seizure in 2021. Politico even focused on Miami-Dade in a 2021 investigative report entitled "How Do Bad Cops Stay in Power? Just Look at Miami." In 2019, Miami police attacked a Black woman who called the cops for help.
At the unveiling of the Black History police car, Miami Mayor Francis Suarez was quick to highlight a recent dip in complaints against the police department, the Miami Herald reports:
Miami Mayor Francis Suarez made a point to highlight a decrease in complaints against officers in the last year, as well as over 330,000 interactions between police and the public.

"I'm very proud of the way our officers behave," Suarez said. "We embrace our history. We know where we came from."
Naturally, social media had a lot to say about this bizarre tribute to Black Americans both on the force and living under the police.
This cop car is a good indication that Florida shouldn't ban African American history classes, but instead should make them a requirement. The worst part is, this custom wrap job likely cost taxpayers thousands of dollars, while making the vehicle itself nothing more than a "public outreach" vehicle, likely never to see a moment in the line of duty while decorated in such a fashion.