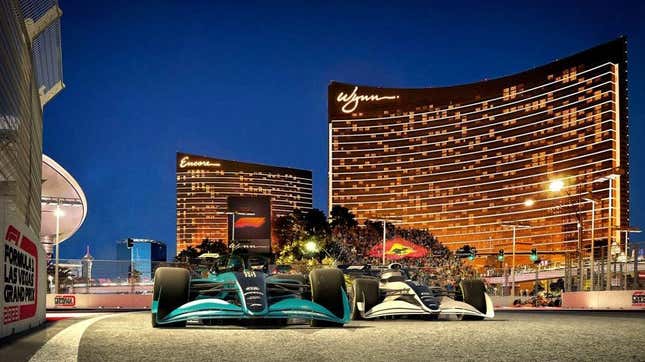 The Las Vegas Grand Prix — where open-wheel cars will race down the city's iconic Strip under its world-renowned lights — hasn't even happened yet, but Formula 1 and city officials look set to make it a near-permanent race. As in, we could be looking at races at the temporary track for the next decade, as opposed to the three-year deal that currently exists.

One local Las Vegas news network has reported that on Feb. 7, the Clark County Commission will evaluate a proposal that would make the Vegas GP a permanent event on F1's calendar for the next 10 years. It would retain its slot during the weekend before Thanksgiving from its first running in 2023 all the way to 2032. That's a massive commitment, and it's one that still needs to be decided upon by both F1 and the city.
The report suggests that the race and city will share something of a symbiotic relationship. If F1 ultimately commits to a 10-year plan, Las Vegas will allow it to forego the standard filing process for paperwork regarding special events. Basically, F1's detailed plan about how it'll use public roads and sidewalks will remain standard for all 10 years, which means the series won't have to start filing paperwork up to 13 months in advance of the next year's race. In exchange, Formula 1 is projected to bring over one billion dollars to the Vegas economy. Not a bad swap.
These decade-long deals aren't particularly common in F1; it's difficult to predict how long interest in a particular area will last. However, the sport made an exception for the Miami Grand Prix back in 2021, and it could be doing the very same for Vegas. That's a big leap for America, a country that was in danger of losing its only F1 race just a few years ago.
Of course, this proposal isn't a guarantee yet. We'll see what Clark County Commission members decide on Feb. 7. The 2023 running of the race will take place on Nov. 16 through 18, 2023.