Between getting hit with torrential downpours and Formula One's decision to host the Mexican Grand Prix only a week later, Circuit of the Americas chairman Bobby Epstein told the Austin-American Statesman that the United States Grand Prix was "a financially devastating weekend for the company." Ouch.
Formula One seems to have shot the United States Grand Prix in the foot from the get-go with the questionable decision to schedule the newly revived race at Autódromo Hermanos Rodríguez only a week after Austin. One of Austin's biggest draws in the past has been the opportunity for many Mexican fans to cheer on the two Mexican drivers currently in the sport: Esteban Gutiérrez and Sergio Perez.
Unfortunately, most fans can only take so much vacation in a month to go to races before their employers start to wonder if they still exist. For many Mexicans, the Mexican Grand Prix was the easier trip to make of the two, which crippled COTA's attendance before the rains even moved in.

"The Mexico race hurt us," Epstein told the Statesman, claiming that the drop in Mexican attendance alone cost the track millions.

Sure, pairing two races makes logistical sense for teams, but that's the only logical rationale I can think of for hosting these two only a week apart. We didn't even have the normal two-week interlude that most grands prix have from one race weekend to the next. There is an off-week in between the two races next year, but I don't expect that will help much: they're still too close in time and space for either one to do as well as they should in the long run.

G/O Media may get a commission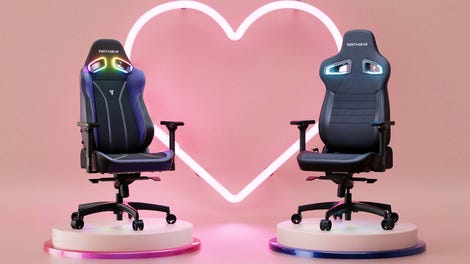 Up to $150 off
Vertagear Gaming Chairs
Then there was the rain.

Remnants of Hurricane Patricia dropped over six inches of rain on the circuit all weekend long, cancelling and postponing sessions. While the rains cleared and allowed for a truly legendary race to happen on Sunday, the rest of the weekend could easily be described as miserable.

Cars got stuck in the gravel and grass parking areas around the track, forcing COTA to close lots, shuffle around assigned parking areas and use additional shuttles to bring people in from off-site parking areas. Several roads near the track were covered in standing water in spots.
Epstein told the Statesman that as soon as the magnitude of the weather system heading to the track was known, track staff started making arrangements for additional shuttle locations and buses to use instead of their mud-prone on-site parking lots.

In particular, Formula One's decision to run Free Practice 3 at 10:00 a.m. on Saturday after COTA had told many fans that it wasn't opening until noon due to unsafe conditions at and around the facility left many fans with a horrible taste in their mouths. That's right: F1 ran a session leading up to its feature race of the weekend — which many people expected to count as qualifying due to storms expected later in the day — before the track officially reopened to fans.

The official reason Epstein gave for the delayed opening was the risk of lightning, so fans who had already arrived were allowed to watch FP3 from the covered Main Grandstand. Still, it's unacceptable for F1 to run a spectator-focused event before the facility can confirm that it's actually safe for spectators to enter.

According to the newspaper, COTA reported a Sunday race day attendance of 101,667 this year—down from estimates of 107,778 last year and 117,429 for the first grand prix in 2012. Drying conditions on Sunday couldn't have made up for the previous two days, where activities were brought to a halt by massive downpours.

While many take COTA's self-reported numbers with a grain of salt, ticket vendors outside the track confirmed the low demand. Ashley Kubiszyn of TicketCity told the Austin American-Statesman that the number of F1 tickets sold on the secondary market was down 89% from its peak in 2013.

Kubiszyn reported that average resale prices of three-day passes rose to $442 this year from a first-year price of $375, but single-day pass prices plummeted this year, with Sunday passes averaging $280, down from a 2012 average of $360. Overall, ticket sales were at an all-time low—even ahead of the rain.

While we can't control Mother Nature, there is one thing that F1 can control. Can we please shuffle around the United States Grand Prix's date? Pairing it with the Canadian Grand Prix instead of Mexico would allow a relatively easy move on the same continent without pulling from the same regional fan base twice in one month. Perhaps the Mexican Grand Prix could be paired with Brazil's round instead.

Either way, for the sake of both races' ability to survive once the shiny newness wears off, they need to give fans in this part of the continent who could otherwise make both dates the opportunity to do so. COTA's events run smoother every year, and I have no doubt that they'll figure out how to handle inclement weather in time. We just have to ensure that there is a United States Grand Prix in the future.

Photo credit: Getty Images

---
Contact the author at stef.schrader@jalopnik.com.