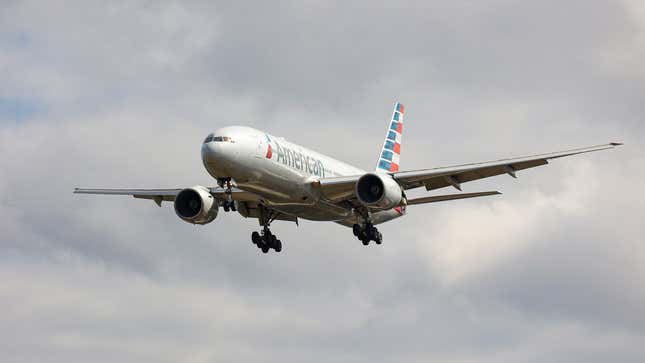 Every passenger that steps onto a commercial flight puts their life in the hands of the flight's crew and the airline. The crew is tasked with ensuring the plane reaches its destination safely, and handing any emergencies that break out mid-flight. A lawsuit claims that organizational carelessness from American Airlines was a significant factor in a passenger's death on a flight last year. The suit alleges that the cabin crew was unprepared for a passenger to suffer a heart attack — and the onboard defibrillator's battery was dead when the passenger needed it most.
In case you missed it:
American Airlines Flight 614 was scheduled to fly from San Pedro Sula, Honduras to Miami International Airport in Florida on June 4, 2022. Kevin Greenidge, a passenger, went into cardiac arrest and lost consciousness while the flight was en route. The flight was diverted to Cancún, Mexico, but crews couldn't save Greenidge. According to the Dallas Morning News, a lawsuit recently filed by Greenidge's mother in U.S. federal court in New York claims that Greenidge's death was partly caused by American Airlines. Allegedly, the automatic external defibrillator (AED) on the flight had a dead battery pack, meaning it couldn't deliver the necessary shock to Greenidge. The lawsuit also claims that the flight attendants were untrained in resuscitation.
Airlines can be held liable for the injury and death of passengers onboard flights. The Montreal Convention enshrined this liability into international law in 1999. The claims of unpreparedness run opposite to the history of American Airlines, the first U.S. carrier to add defibrillators to its flights in 1997. Just one year later, one of those on-board defibrillators was used on a passenger suffering cardiac arrest, and the passenger survived. The same year, U.S. authorities began requiring AEDs on all commercial flights in the United States.
According to American Airlines, 76 lives have been saved on flights using on-board defibrillators. The airline's website even shows data from the American Heart Association, pointing out that if a defibrillator is used within the first seven minutes of a heart attack, the patient's chance of survival rises from 5 percent to nearly 50 percent.