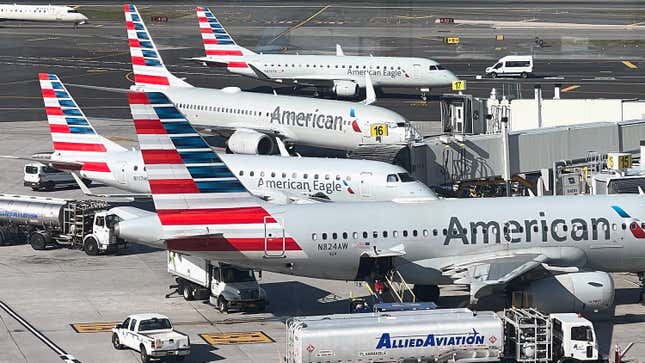 Federal investigators are alleging that American Airlines retaliated against flight attendants who reported illnesses caused by toxic fumes in aircraft cabins, according to a statement from the U.S. Department of Labor.
The Occupational Safety and Health Administration (OSHA) launched a whistleblower investigation into the Fort Worth-based airline in August of 2022. Flight attendants reported their concerns about the fumes allegedly were docked attendance points and discouraged from reporting work-related injuries and illnesses.
Following its investigation, OSHA proposed $6,837 in penalties. Just for reference, American Airlines has a market cap about a little bit over $9 billion.
"Federal law protects workers' rights to voice workplace safety and health concerns without the fear of retaliation," Timothy Minor, Fort Worth OSHA Area Director, said. "When employers punish employees for doing so, they create a chilling effect that may stop workers from reporting future issues, putting their health and well-being, and that of co-workers, at risk."
American now has 15 business days to comply, request an informal conference with OSHA's area director, or contest the findings before an independent Occupational Safety and Health Review Commission.
"Our investigation found that the flight attendants engaged in protected activities when they reported illnesses related to jet fuel fumes seeping into the aircraft cabin," he added. "Workers must feel empowered to inform managers and others about potential hazards that jeopardize workers' safety and health."
It's unclear just how many employees came forward to American Airlines about the issue and how many were retaliated against, but the statement says American Airlines employs about 109,000 employees and 24,000 flight attendants.