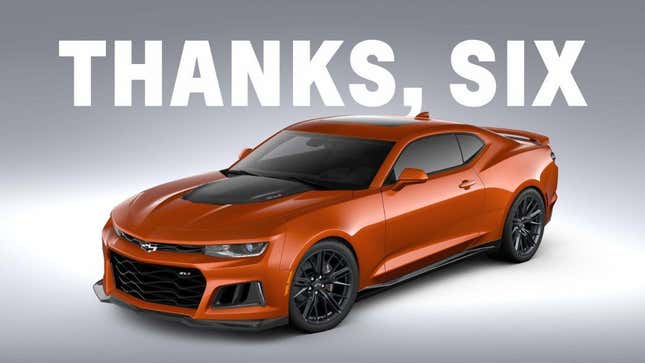 General Motors has announced the end of production for the sixth-generation Chevrolet Camaro for the 2024 model year. Another American muscle icon bites the dust — but Chevy says this isn't the end of the road for the vehicle as we know it; we just have no idea what's coming next. The final car will roll off the production line at the Lansing Grand River Assembly Plant in January of next year.
In case you missed it:
The future of the Camaro is still bright, according to Chevy — but just not fully defined. The company stated, "While we are not announcing an immediate successor today, rest assured, this is not the end of Camaro's story." If GM is going the way of many other makers of American muscle, that could very well mean an electrified Camaro is coming, but that's still all up in the air.
To send off the vehicle in style, GM intends to release a Collector's Edition package of of the 2024 Camaro — but, again, specific details are yet to come. We do know, however, that Chevy will offer this package on the Camaro RS and SS, as well as on a limited number of ZL1-equipped machines.
This shouldn't come as a huge surprise to anyone familiar with the auto industry; in fact, we reported that the writing was on the wall for this iconic vehicle back in 2021. Back then, we'd read reports that there would be 2,000 Collector's Edition models, and that they'd be decked out in yellow. Will that be true? Time will tell — but until we have all the details, I think it's safe to say it's time to begin a period of mourning for this generation of American muscle.