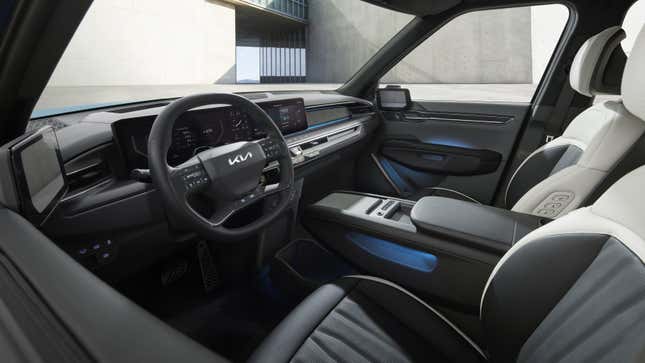 After-purchase digital upgrades seem to be coming hand-in-hand with the electric vehicle transition. As automakers look to boost profits from expensive-to-build electric vehicles, you're likely going to have to start paying for features and updates in those new EVs. Kia is the latest automaker to introduce paid over-the-air feature updates with its all-electric three-row SUV, the EV9.
2024 Nissan Z NISMO | Jalopnik Reviews
In case you missed it:
Seemingly lost in the excitement of the reveal of Kia's next EV was the automaker's announcement of an expansion of the the Kia Connect Store. Now, Kia Connect already exists as an owner portal, with resources like online owners manuals and access to smartphone apps for remote climate control or car-location services. In a sense, it's a precursor to what Kia will offer with its newest EVs.
Kia describes the Kia Connect Store as a place where owners can go to to purchase digital features and services, or allow them to "continuously upgrade the capability of the EV9 with Over the Air (OTA) updates at any time."

The Connect Store will offer a lot of options for customers who want to purchase extras for their EV9, or enhance some of the features the EV already has. Take the EV9's unique LED-illuminated grille up front: From what Kia has said so far, this feature is going to be standard on the EV9 GT-Line. As a standard feature, it just lights up. If you want it to have a unique lighting pattern, you can purchase the Lighting Pattern feature from the Connect Store.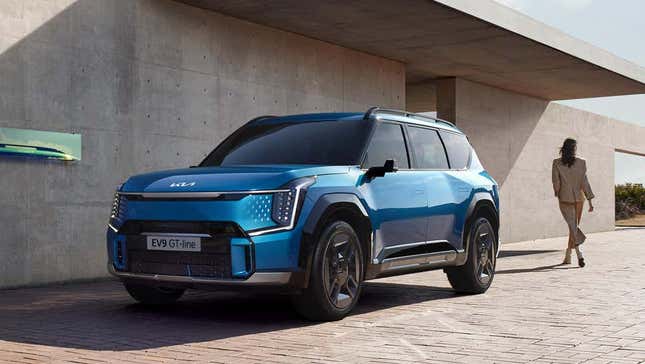 What about a little more performance for your EV9? As long as you're willing to pay, Kia Connect Store has got you covered. Owners can purchase a Boost feature which ups the torque output of the EV9's powertrain by 74 lb-ft. This is enough to push the EV9 to 60 mph in 5.3 seconds. There are other features Kia says can be purchased through the store as well, like a remote parking-assist system or content streaming services for passengers.

Kia hasn't given many details regarding the Connect Store, like pricing on individual features for the EV9. Jalopnik reached out to a Kia representative asking for more info; we will update this article with any reply we receive. Specifically, we're curious whether these purchases will consist of a one-time fee, or if they'll take the form of the dreaded subscription, which studies show most people don't want, but automakers expect to make billions off of.
Update: After this article was published, a Kia representative replied to Jalopnik with some clarification. "In principle, both one time payment and subscription-based option will be available," the Kia rep told Jalopnik. "Yet, specifics of payment methods may vary by markets. We will provide more details closer to its market availability."