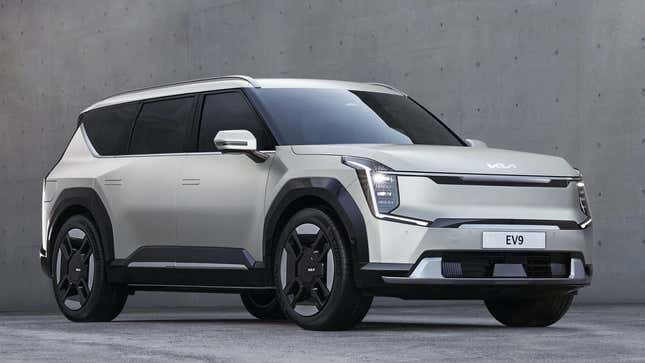 Kia first showed off the EV9 concept at the Los Angeles Auto Show in late 2021. At the time, we weren't entirely sure how closely the production version would look compared to the concept, but as you can see here, it's pretty darn close. It has more traditional headlights, actual side-view mirrors, and regular rear doors, but we weren't exactly expecting those to make it to production.
In case you missed it:
Styling is subjective, but overall, I like the way it looks. It's boxy and has a distinctive look that isn't going to get lost in the parking lot. Plus, I appreciate that it has its own style and doesn't look like a larger version of the EV6. And while Kia hasn't released official dimensions yet, if the EV9 sticks to the concept's dimensions, it will actually be slightly shorter than the Kia Telluride overall while having a wheelbase that's nearly eight inches longer. So it will be far from small but not nearly as massive as it may appear in photos.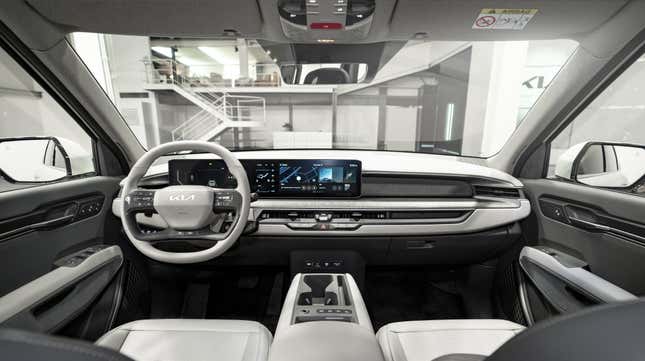 Inside, the production EV9 still carries the spirit of the concept but is also, thankfully, much more normal. The yoke is gone, replaced with a regular steering wheel that has actual buttons on it. And while there's still a whole lot of screen space in the form of two 12.3-inch horizontal displays, it looks like there are still a few physical controls in the center, as well, including a volume knob.
The cabin itself appears spacious and airy, although a panoramic sunroof appears conspicuously absent. Heck, we don't even see a regular sunroof in the photos. Customers will have the option of choosing seating for either six or seven, and the press release promises "generous space for all occupants to connect and relax with lounge-style comfort in all three rows of seats." So expect that long wheelbase to offer plenty of legroom even for passengers relegated to the back.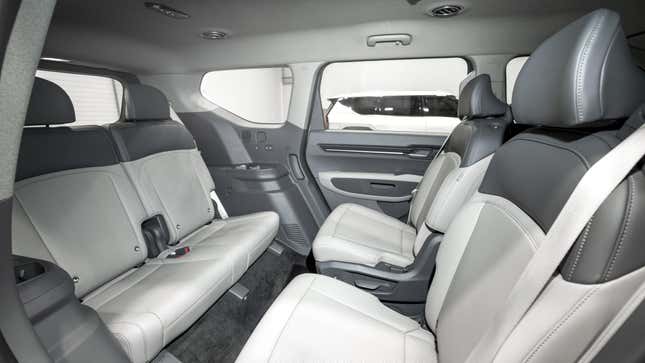 The production EV9 also comes with a neat party trick. The second-row seats can be turned 180 degrees, allowing passengers in both rear rows to talk, play games, have a pizza party, or whatever else they come up with to do. As long as they don't get motion sickness from facing the wrong way, we're sure kids will love having that option. It also appears you can turn the seats 90 degrees, as well, which could make it easier for parents to put a child in a car seat.
Sadly, that's about all the information we have to share at the moment. Apparently, the full reveal is coming later this month where Kia will hopefully announce all the important things it left out of this announcement such as how much power the EV9 makes, how big its battery is, how long its range is, actual dimensions, and hopefully even pricing and the on-sale date. But we have to say, we like what we've seen so far.