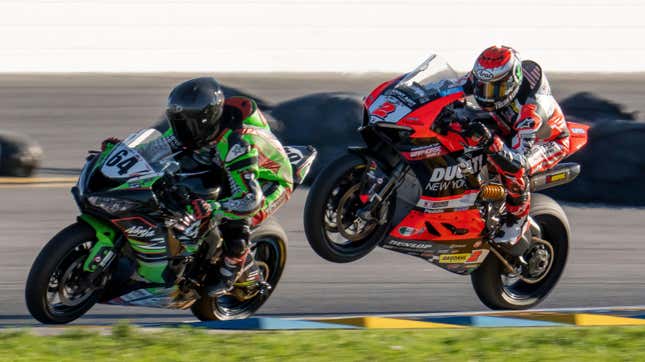 Welcome to the Jalopnik Weekend Motorsports Roundup, where we let you know what's going on in the world of racing, how to watch this weekend's NASCAR and Daytona Bike Week races, and where you can talk about it, all in
one convenient place.
In case you missed it:
Formula 1 and IndyCar began their 2023 seasons last weekend and will be taking this one off. However, last weekend's Daytona Supercross marked the beginning of racing action at Daytona Bike Week. MotoAmerica will be taking on the road course and high banks of the legendary superspeedway in the Daytona 200. American Flat Track will open its 2023 season with a doubleheader on a temporary quarter-mile dirt short track just outside the speedway. Most of the week's motorcycle racing will be broadcast live on bespoke subscription streaming services before being aired at a later date on television.
There's still plenty of racing this weekend away from Daytona. Monster Energy Supercross is headed to Indianapolis on Saturday. The NASCAR Cup Series is making its first visit to Phoenix Raceway of 2023 before returning for the championship finale in November. The Mint 400 will be taking place in the Southern Nevada desert, and the NHRA is kicking off the 2023 drag racing season with the Gatornationals in Gainesville, Florida. Is there anything we've missed? Let us know in the comments!
How to Watch or Stream This Weekend's Racing:
Thursday, March 9
American Flat Track - Daytona Short Track I
From Daytona International Speedway in Daytona Beach, FL
7 p.m. ET on FansChoice.tv / March 18th at 10:30 a.m. ET on Fox Sports 1
Friday, March 10
Mint 400 - Limited Race
From Primm, NV
10:45 a.m. ET on YouTube
American Flat Track - Daytona Short Track II
From Daytona International Speedway in Daytona Beach, FL
7 p.m. ET on FansChoice.tv / March 18th at 10:30 a.m. ET on Fox Sports 1
Saturday, March 11
Mint 400 - Unlimited Race
From Primm, NV
12:15 p.m. ET on YouTube
MotoAmerica - Daytona 200
From Daytona International Speedway in Daytona Beach, FL
1:10 p.m. ET on MotoAmerica Live+ / March 12th at 8 p.m. ET on MavTV
NASCAR Xfinity Series - United Rentals 200
From Phoenix Raceway in Avondale, AZ
4:30 p.m. ET on Fox Sports 1
Monster Energy Supercross
From Lucas Oil Stadium in Indianapolis, IN
7 p.m. ET on Peacock
Sunday, March 12
NHRA - Amalie Motor Oil NHRA Gatornationals
From Gainesville Raceway in Gainesville, FL
12 p.m. ET on Fox
NASCAR Cup Series - United Rentals Work United 500
From Phoenix Raceway in Avondale, AZ
3:30 p.m. ET on Fox