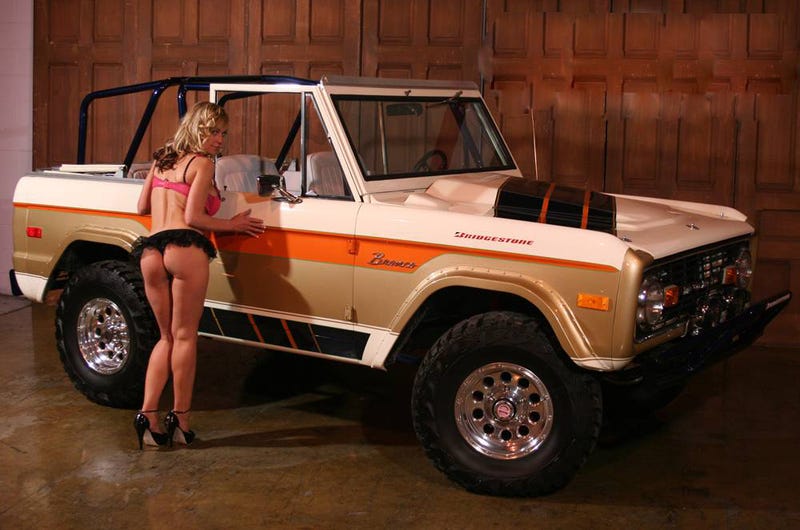 Nice Price Or Crack Pipe
Is this used car a good deal? You decide!
The late Donald Frey must have had a thing for horses. The Mustang was his idea, as was today's Nice Price or Crack Pipe Bronco. That Ford truck's good for horsing around in, but are you willing to pony up?
It turns out that the effort to turn a lowly Merkur XR4Ti into a fire-breathing Sierra RS Cosworth was not a cause that many of you felt was worth the twenty five grand asking price. Just as Sierra Mist ain't Sprite, 73% of you said no effing way that faky-fake RS was as valuable as the real deal.
While that car evidenced a great deal of plastic surgery to accomplish its gender-bending transformation, its appearance pales in comparison to that of the potentially un-enhanced bikini-clad spokesmameries from last week's Ferrari 365 GT4 2+2, and she's back today! No longer hawking Italian brownies, she's now demonstrating the roll bar load capacity of a 1976 Ford Bronco Restoration, and she's wearing even less clothes! What a trooper. She's a bit of an odd juxtaposition with the Bronco as its glass is all flat and she's. . . well, her chest could probably bend light due to its gravitational pull. Regardless, I'm sure we're all glad she's back.
This Bronco hails from the second to the last model year of first-gen production, and benefits from a frame-off restoration that probably saw more stripping than our lady friend here. Everything is claimed new or painted to look that way, and speaking of paint, the exterior have been done in a love it or heave it tri-tone orange, gold and beige. Despite that, the Lambo LM002-evoking hood and flares give it a machismo that the paint job sorely lacks. Much like the accompanying model, this Bronco lacks a full top. A roll bar and soft top somewhat make up for that, and a replacement couldn't be that hard to source. Also. Like the model, the Bronco's rear bumper appears scanty.
Powering this beast (the Bronco, not the girl) is a 302-cid crate motor with an Edelbrock intake and Borla exhaust that together, the seller claims, should produce 300bhp+. Mated to that V8 is floor-shifted Tremec three speed and Dana 20 2-speed transfer case. The front axle is also from Dana, a heavy duty 44.
Inside there's white vinyl, which should really draw crowds in Cleveland, some carpet that's of questionable utility in a Bronco, and not a lot else. Of course, the Bronco never head much in there to begin with.
Originally intended to offer an alternative to the Jeep CJ5 and IH Scout, the Bronco was mildly successful in its original form. When Chevy introduced the larger C10-based Blazer in '69, the category split in an amoeba-like fashion, driving Bronco sales further south and forcing Ford to chase sales, and the Blazer with a larger F-series based replacement in '78.
But before then, before Al Cowlings and OJ Simpson branded the white Bronco as the celebrity BFF escape vehicle of choice, the Bronco was a capable off-roader with serious hot rod potential. The paint and the lack of a hard top may both be seen as demeritorious, but overall the restoration looks reasonably well done, and our friend sure seems to like it. But do you like its price? The dealer is asking $27,500 for the truck, sans the model. For that price you could buy a whole lot of crappy Broncos and hit up the Graveyard for anything missing. Hi Ted! Sure, that's a pain in the ass, and this Bronco's already sorted out for you.
So you've got some thinkin' to do. Does $27,500 make this a Bronco you'd like to saddle up? Or does a Bronco for that kind of scratch make you say no bucking way?
You decide!
eBay or go here if the ad disappears.
Help me out with NPOCP. Click here to send a me a tip, and remember to include your commenter handle.