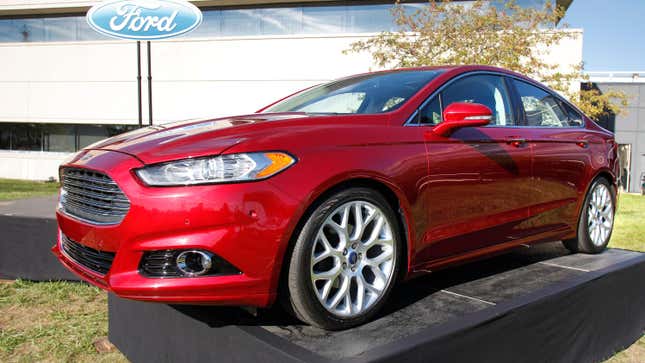 Ford is recalling more than 1.3 million of its 2013-2018 Fusion and Lincoln MKZ sedans in North America because of a front brake hose that could rupture and leak brake fluid. According to the National Highway Traffic Safety Administration, the recall covers 1,280,726 sedans in the U.S. Automotive News says that a further 66,000 vehicles in Canada and 18,000 vehicles in Mexico are impacted by the recall.
The Ford Explorer Goes All-Electric, But Not For America
This comes after a story in August of 2022 where we reported that NHTSA was probing about 1.7 million Fords and Lincolns to see if a 2020 brake hose recall effectively fixed the issue. It seems it did not. During that same time, Ford recalled 488,000 Ford Edge and Lincoln MKZ crossovers for a similar issue.
The recall report from NHTSA says drivers may feel a change in the brake pedal's "feel and travel," and that the brake fluid warning light might illuminate on the vehicle's gauge cluster. On top of that, NHTSA says folks behind the wheel of these vehicles "may experience an increase in pedal travel together with a reduction in the rate of deceleration, increasing the risk of a crash."
Unfortunately for one driver, Ford told NHTSA that it was aware of one accident pertaining to this recall. However, the Blue Oval isn't aware of any injuries related to the issue.
According to the report, the faulty brake hose component comes from HC Querétaro, a parts supplier located in Mexico.

The remedy for the issue is a simple one. Dealers will replace the faulty brake hose at no change to owners. Ford said those owners will be notified via USPS mail starting April 17th. Hopefully the fix will actually work this time.