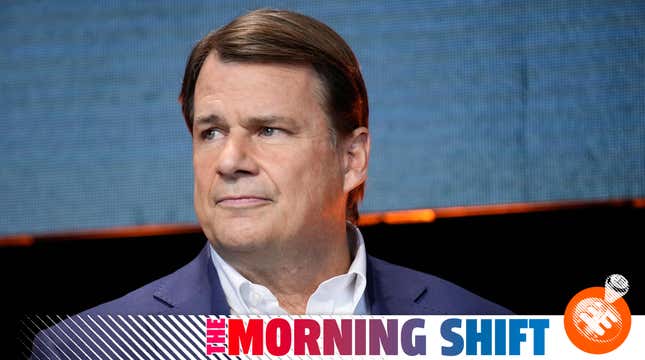 Ford is in a period of deep self-reflection, NHTSA is interested in a fatal Tesla crash in California, and Jaguar is hiring. All that and more in this Tuesday edition of The Morning Shift for February 21, 2023.

1st Gear: Ford's Problems
Ford has been going through it as of late, halting production of the F-150 Lightning and halting production of the Escape, all coming after CEO Jim Farley had a bit of a moment. What this actually means, for buyers of new cars, is hard to tell. Brand reputations take years or even decades to build up or destroy. Take Hyundai, for example, which sold cars that were very bad for years in the United States, before getting better and overhauling its brand and, nowadays, being one of the most respected automakers out there.
Ford is in a weird middle place here: Its products are very good, or at least many people like them, but they also have an undeniable issue with quality. Farley was promoted to fix this, but the task might apparently be too big for one man. This hasn't really caught up to Ford yet in terms of reputation — people still think of Fords as reasonably well-built American cars, even as they bring them in for recall after recall. But in time, it might.
Anyway, Automotive News had a big story on Saturday on the matter:
Ford has issued the most U.S. recalls in the industry for the past two years, according to NHTSA.

In the future, the company intends to redesign its manufacturing process so vehicles have less content that assembly workers have to install, Farley said. He hopes to reduce the number of fasteners in a vehicle by half, he said, and move to larger castings with fewer parts, similar to Tesla.

But getting there has proven difficult.

"The prejudice is so high for how we've done things," Farley said.

After a group within Ford called Team Edison created the Mustang Mach-E, Farley said it became "crystal clear" what he needed to do.

"Our prejudice will never get us to 8 percent [EV profit] margins," he said. "We have to design the vehicle totally differently. We have to manufacture it, source it and sell it totally differently. That's been a big transition."
Perhaps very worringly for Farley, Ford Executive Chair Bill Ford also expressed the dreaded vote of confidence in his CEO.
Bill Ford said he still has full confidence that Farley is the right person to figure out the automaker's problems.

"I think this is the best leadership team in my memory," he said. "Jim's a fantastic CEO, and he's put together kind of an all-star team, frankly."

More than half the leadership team is new to the company since Farley took over in late 2020. Among his hires are Doug Field from Apple's car project and Alan Clarke from Tesla.

Ford said Farley has been able to manage the company on a number of levels.

"Most CEOs either skew operationally or they skew strategically; Jim is both," Ford said. "In my experience, that's very rare. But he has a lot to do. He's basically running three different businesses now."
I don't think Jim Farley is going anywhere anytime soon, but Farley does seem rightly anxious that the thing he was brought in to fix is not fixed yet.
2nd Gear: Another Fatal Tesla Crash
There was a deadly crash involving a Tesla this weekend in Contra Costa County, California, according to officials. A Tesla Model S slammed into a fire truck, killing the driver and injuring a passenger. Four firefighters were also taken to the hospital. Bloomberg says that the National Highway Traffic Safety Administration is now asking questions:
The U.S. National Highway Traffic Safety Administration asked Tesla Inc. for more information about one of its vehicles colliding with a fire truck in a fatal crash in the San Francisco Bay area.

The agency reached out to the manufacturer after the incident in Contra Costa County during the Presidents' Day holiday weekend. The county fire department said in a Feb. 18 tweet that a Tesla struck one of its trucks that was blocking lanes while responding to an earlier accident.

NHTSA has spent the last 18 months investigating how Tesla's driver-assistance system Autopilot handles crash scenes involving fire trucks and other first-responder vehicles. It's unclear whether the driver in the Contra Costa County incident — who was pronounced dead at the scene — was using Autopilot.
Last week, every Tesla equipped with "Full Self-Driving Beta" was recalled.
3rd Gear: Nio's Export Factory
The Chinese EV manufacturer is reportedly building a new factory in China for affordable EVs that will be exported to Europe, according to Reuters' sources. This is apparently because of weakening demand at home.
The plan to broaden the company's lineup and expand overseas sales comes as EV sales sharply weaken in China, the world's largest auto market, following an end in state subsidies for EV purchases.

Nio has been planning to launch more affordable EV products under new brand names after 2024 as part of projects codenamed "Firefly" and "Alps", according to the people, who declined to be named as the discussions are private.

The new factory will be built in Chuzhou city in eastern China's Anhui province, they said, adding that the plant will make cars, developed under project "Firefly", which Nio wants to export to Europe where customers prefer small-sized vehicles.

[...]

The company did not immediately respond to a request for comment. An official at the Chuzhou Economic and Technology Development Zone, where the Nio plant is to be located, declined to comment.

Chinese media outlet Cailianshe first reported about the development.
It's still unclear when or even if Nio is coming to the U.S., though it does seem likely at some point. I'm more interested in the fact that automakers are prioritizing affordable EVs now, when for so long that wasn't the case.
4th Gear: Jaguar Land Rover Has Some Hubs
These are "tech hubs" in Europe, for the development of autonomous cars. This is big news for unemployed engineers in Europe. From Reuters:
The hubs in Munich, Bologna and Madrid will develop self-driving systems for JLR's next generation of luxury vehicles. JLR already has six global tech hubs the United States, China and Europe.

JLR, unit of India's Tata Motors (TAMO.NS), said the locations were chosen because of the local availability of digital engineering specialists and will create almost 100 engineering jobs focused "on developing driver assistance systems and artificial intelligence for self-driving cars of the future."
5th Gear: Elon Musk
I can't really keep the trials of Tesla CEO Elon Musk straight anymore, but, today, there will be closing arguments in Deleware in a trial over Musk's pay package. In this case, a Tesla investor sued Elon and Tesla's board in 2018, arguing that Elon's pay was too much, and there was a trial in November. Now, it's coming to a head. From Reuters:
Richard Tornetta, a small Tesla investor, sued Musk and the board in 2018 and hopes to prove Musk coerced compliant directors into providing a package of his design, which is many times larger than the combined pay of the next 200 highest-paid CEOs. It contributes to Musk's fortune, the world's second largest.

The package allows Musk to buy 1 percent of Tesla's stock at a deep discount each time escalating performance and financial targets are met, otherwise Musk gets nothing.

Tesla has hit 11 of the 12 targets as its value ballooned to briefly top $1 trillion in 2021 from $50 billion when the package was negotiated.

Tornetta's lawyers argued the Tesla board had a duty to offer a smaller pay package or look for another CEO and they should have required Musk to work full-time at Tesla instead of allowing him to focus on other projects, like running Twitter.

Tornetta wants some or all of the package to be rescinded.
Reuters also called Elon "the Musk," which I'm sure is just an inadvertent error but also the Musk.
Chancellor Kathaleen McCormick of Delaware's Court of Chancery must determine if the Musk, who owned 22 percent of Tesla stock in 2018, controlled the company through board ties and his personality, which will shape the outcome of the case.
Reverse: The National Association for Stock Car Auto Racing
NASCAR was founded on this day in 1948. I heard there was a race this past weekend. I even watched the highlights on YouTube. There were a lot of crashes? I dunno, congrats Ricky.
Neutral: How Are You?
I haven't been in this space in a stretch, because I'm a big shot now. Just kidding, still a small shot. I can report that the Fit is in good shape, and I found a miracle parking spot for it on Sunday, where it will live all week. The car is 15 years old now, old enough (like myself, frankly) where I'm beginning to look at it and be like, goddamn, you are old.