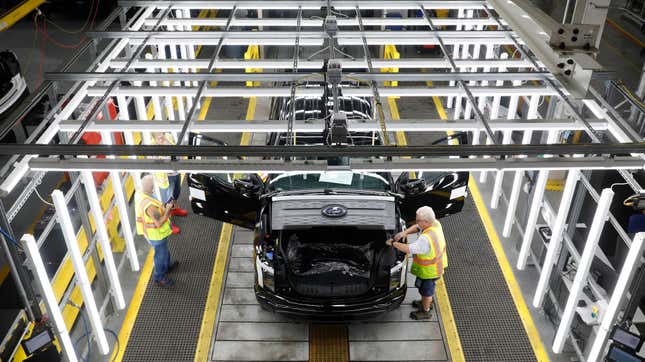 Ford halted production of its popular F-150 Lightning earlier this week due to an undisclosed battery issue. Now we know what that battery issue was: A fire sparked by a battery issue in a truck during a standard pre-delivery quality check. The fire was extinguished by Dearborn Fire Department, but not before it damaged a second vehicle on the holding lot.
Ford announced the stop-build order at its Rouge Electric Vehicle Center in Dearborn, Michigan, on Tuesday after identifying undisclosed battery issues. The Detroit Free Press learned Wednesday the incident that incited the hold occurred back on February 4, and wasn't a minor quality control issue:
Ford Motor Co. stopped production of its 2023 F-150 Lightning pickup truck immediately after a battery fire in a vehicle holding lot on Feb. 4, the Detroit Free Press learned Wednesday.

The initial fire spread to a second vehicle in the lot, which stored vehicles awaiting quality review prior to shipment to dealers, and the Dearborn Fire Department responded.

Emma Bergg, Ford spokeswoman, said in response to a Free Press inquiry, "I can confirm one vehicle fire. Let me reiterate, we have no reason to believe F-150 Lightnings already in customer hands are affected by this issue."

[...]

"We are suspending production at the Rouge Electric Vehicle Center through at least the end of next week," Bergg said. "We believe we have identified the root cause of this issue. By the end of next week, we expect to conclude our investigation and apply what we learn to the truck's battery production process; this could take a few weeks. We will continue holding already-produced vehicles while we work through engineering and process updates."

She added, "We are not aware of any incidents of this issue in the field."

Ford told Jalopnik the vehicle caught fire after a battery issue popped up during a standard Lightning pre-delivery quality inspection. The automaker says it believes it has already identified the issue and plans to plans to wrap up its investigation at the end of next week. Production should restart in a few weeks' time. The delay is due to the automaker ensuring what engineers learned from the investigation is implemented in the production process. Already produced, undelivered F-150 Lightnings will be held back by Ford while it works out if the vehicles need any potential fixes. Ford says it has no reports of issues with current Lightning customers.
The Ford F-150 Lightning has been a winner for the automaker. Despite raising the price over and over and over again last year, the company had to put future sales orders on hold in order to catch up to current orders.
Ford isn't the first domestic automaker to tangle with EV fires. General Motors asked Chevy Bolt owners to park their vehicles outside of garages and away from standing structures and other cars while it tried over and over again to find a fix to vehicles randomly sparking up. While Tesla, the number one EV nameplate in America, does not have a problem with unexplained random fires, it does have an issue with fires after crashes. The company is currently being sued after one owner died in a post-crash fire after the doorhandles on his Model S failed to work once the electricity was cut.
Fires in EV vehicles are especially dangerous, as the fires can take thousands of gallons of water to extinguish. Even when the fire seems completely over and done it can randomly restart hours later. First responders remain woefully untrained to fight such blazes.