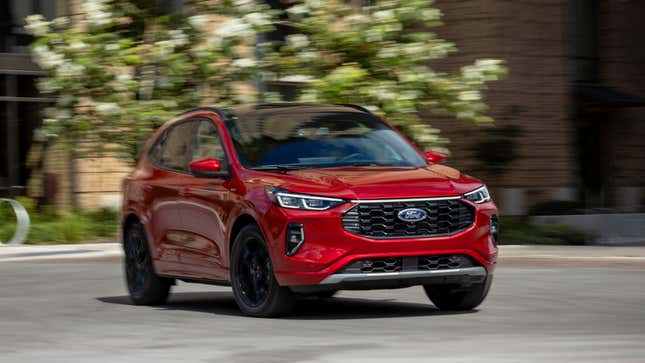 Yesterday, we reported that Ford had temporarily stopped production of the F-150 Lightning due to an unspecified battery issue. F-150 Lightnings that are already on dealer lots are said to be safe, but Ford also issued a stop-ship order on trucks that are already in transit. Considering how high the demand is for the electric F-150, that's not good news for Ford. But today, the news got even worse for the American automaker due to another production stop of the Escape.
The Ford Explorer Goes All-Electric, But Not For America
Automotive News reports that workers at Ford's Louisville factory were told last week that the plant would be idled from February 13 through February 19. Apparently, there's a software problem that needs to be fixed before production can begin again.
In a message obtained by AN, the factory's building chairman, Brandon Reisinger, said, "We're on a day-by-day basis right now and I know that's frustrating. The issue we've got, the cluster, is a software issue. It's not a hardware issue. If it were to get out, it would not be something that would endanger anybody … but it would have the vehicles coming back to the dealership."
When asked to comment on the stoppage, a Ford spokesperson declined to give more details on the software issue but said, "We are committed to ensuring our vehicles are built with the quality our customers deserve and will take the appropriate actions to deliver this commitment."
From a business perspective, it's definitely better to fix the issue before it becomes a problem for customers. But stopping the production of two models in a week does raise questions about how effective Ford's efforts to improve its quality have been. Then again, at least Ford won't have to issue yet another recall for these problems.