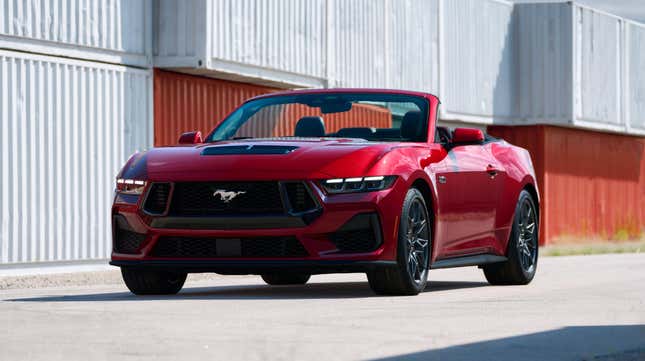 You can breathe a big sigh of relief, because AM radio is here to stay in Ford cars, trucks and SUVs. The big news came via a social media post CEO Jim Farley made after a hell of a lot of backlash from politicians and customers alike. Pretty much everyone was concerned about the fact many emergency alerts are broadcast on AM stations. It was a big moment for society as a whole.
The Ford Explorer Goes All-Electric, But Not For America
All of this hullabaloo began back in February when Ford said it was dropping AM radios from its F-150 Lightning electric pickup truck. The automaker claimed AM radio waves didn't mush with EV motors. If that's true or not, I have no idea, but current F-150 Lightnings have AM radios, and I don't see any of those facing radiowave-related issues.
"After speaking with policy leaders about the importance of AM broadcast radio as part of the emergency al;ert system, we've decided to include it on all 2024 Ford and Lincoln vehicles," Farley wrote on Twitter. For any owners of Ford EVs without AM broadcast capability, we'll offer a software update.
According to the Associated Press, a bipartisan group of federal lawmakers introduced a bill calling on the National Highway Traffic Safety Administration that would require AM radios in all new vehicles at no added cost. Sponsors of the "AM for Every Vehicle Act" said public safety concerns were a big reason AM is needed. They cited AM's historic role in transmitting information during emergencies – like natural disasters – in rural areas.
Democratic Senator Edward Markey of Massachusetts is one of the bill's sponsors. He said eight of 20 major automakers including Ford, BMW and Tesla have dropped AM radios from their new vehicles. He also called Ford's reversal an "overdue realization," according to the AP.
The outlet reports that Ford removed the radio from 2023 Mach-Es and F-150 Lightnings after data collected from the vehicles showed that less than 5 percent of customers listened to it. Electrical interference and – as you might have guessed – cost-cutting and manufacturing complexity also played a role. It was also dropped from the all-new Mustang, but Ford says it'll be back before it's delivered.
Long live AM radio.