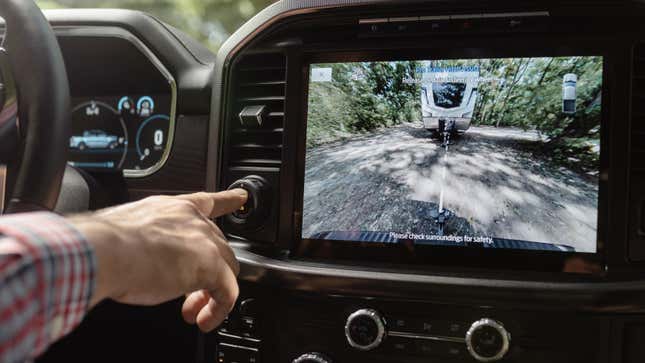 Ford's popular full-size trucks, such as the Ford F-150, boast new technology to make trailering and towing easier. The U.S. automaker has debuted its new Pro Trailer Hitch Assist, which leverages artificial intelligence and sensors aboard the F-Series to help drivers perfectly position their truck's hitch ball under a trailer hitch with the push of a button. There's no more need for 23-point turns and all the frustration of misaligning a truck and trailer when coupling the two.

2024 Nissan Z NISMO | Jalopnik Reviews
In case you missed it:
The Ford Pro Trailer Hitch Assist relies on data from the truck's rear camera, ultrasonic sensors and computer vision to automatically control the pickup's speed, steering and braking, lining up the ball directly under the trailer coupler. Drivers simply push and hold a button while monitoring the truck's trajectory on the center screen, but the idea is to eliminate the trial-and-error (more like arcane magic) of getting a hitch ball to disappear under a trailer coupler.
Ford engineers add the Pro Trailer Hitch Assist is also meant to eliminate the need for a spotter when hooking up to a trailer — although a spotter is always a good idea, regardless. But in this video, a Ford trailer tow engineer says the tech is there for those times when a second person is unavailable:
The new system detects a variety of trailers of different weights and sizes, and allegedly works on different terrains and under various weather conditions. It sounds especially handy for cold and stormy days when the song and dance of hooking up a trailer can be frustrating.
Pro Trailer Hitch Assist is available on the Ford F-150, F-150 Lightning and F-Series Super Duty trucks, although certain F-150 trims must already be equipped with the Trailer Tow Package ($1,325), while Super Duty trucks must have the Tow Technology Package ($925) in order for the new Pro Trailer Hitch Assist to apply.

This is the latest machine learning tech Ford designed for its bestselling trucks, which is meant to make hitching up — or towing in general — easier for drivers who would otherwise shy away from pulling a trailer and using their trucks to their full potential. Ford boasts that it racked up 60 patents during development of Pro Trailer Hitch Assist. Ford says it uses an AI algorithm that'll improve over time as more F-150, Lightning, and Super Duty drivers use the feature.