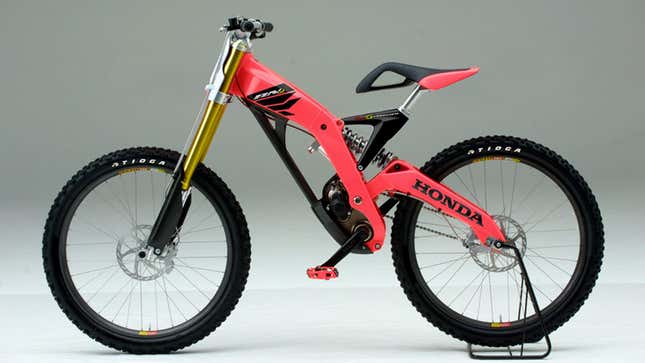 Mountain bike design has come a long way in recent years. From modified BMX rides that were first taken off-road and crazy creations like the Slingshot that was ridden in the late '80s, to the beastly electric monsters you see out on the trails today. Along the way, bike builders experimented with all kinds of tech to try and make their rides faster, lighter, and more reliable. And never one to shy away from dabbling in different sectors, automaker Honda even tried its hand at mountain bike design.

In case you missed it:
Back in the early 2000s, Honda began experimenting with gearbox design on downhill mountain bikes, which up until that point had used the same rear derailleur and gears that you still see on most bikes to this day. But for its first foray into mountain bikes, the automaker decided to draw on what it already knew, so took something from the car world and down-sized it for biking.
As such, Honda's first downhill mountain bike was fitted with a kind of continuously variable transmission, or CVT. Now, the design of these gearboxes has been broken down by Cycling About, and they are fascinating.
As with every CVT you find in the car world, the gearboxes allowed riders to effectively choose from an infinite number of gears between two set points. To do this, the experimental gearbox used a camshaft and a series of levers to change the drive ratio.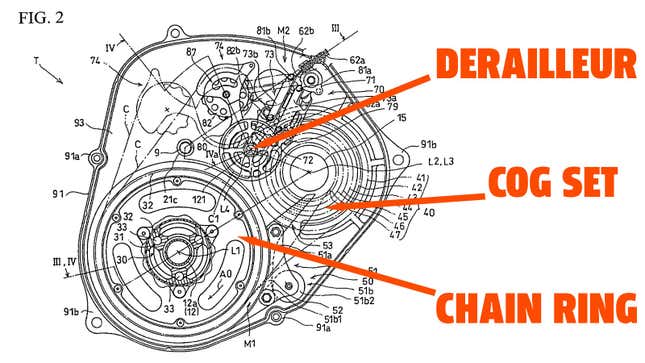 The advantage of this was that shifting was almost instantaneous and you had much less risk of skipping a gear or struggling with a grating chain like you might with a badly-tuned derailleur. The boxes were thought to be more efficient as well and, by Honda's second-generation model, they were also fairly compact – meaning that riders would benefit from better ground clearance when navigating particularly gnarly routes.
But sadly, those CVTs were just prototypes and Honda rarely had the chance to race them in anger and really show what the tech could do. However, Honda had another trick up its sleeve, which was unveiled in 2004 when it entered a team in the Mountain Bike World Cup.
For its first race-spec bike, dubbed the RN-01 G-Cross, Honda had another secret gearbox. According to patents that were made public years later, the third experimental shifter was more like a "Derailleur in a Box" design, as Cycling About explains:
"The solution was a derailleur-in-a-box: a 7-speed gear system that used the same components as a regular drivetrain, but was all sealed away from the elements.

"The gearbox worked by transferring pedal power into a sprocket located on the crank spindle. When this sprocket turned, it would drive the internal chain onto a small cassette where the gear ratio was selected. The cassette then directly drove the external sprocket, which went on to drive the rear wheel."
Although the gearboxes weren't as groundbreaking as Honda's first two attempts, they still allowed riders to shift without pedaling, which meant riders could better prepare for tight corners or tricky sections in a race. They were also more reliable and less susceptible to damage while out on the trails.
But they are perhaps more well known purely because of the secrecy that surrounded them during the competition years. According to Cycling About, Honda took unimaginable steps to keep its designs secret. All the work that was done on the gearbox was carried out in secret and the parts were never stored with the rest of the bike. Instead, engineers would often keep the transmissions hidden away in their hotel rooms while they weren't needed in races.

Then, once Honda disbanded its G-Cross team, the company even went so far as to destroy all its prototype gearboxes, according to Bike Radar. It's maybe because of these steps that the innovative transmissions were never mass-produced for regular riders like me and you.