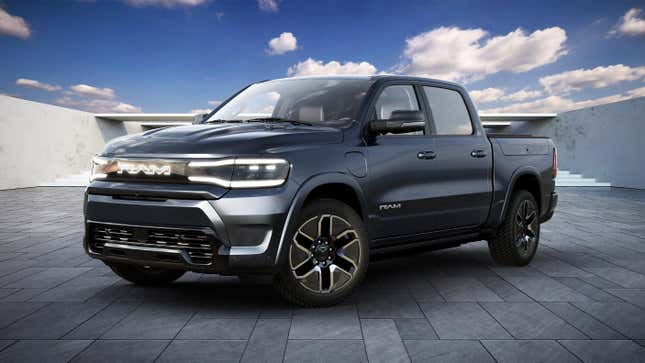 During the Super Bowl this year, Ram revealed the production version of its upcoming electric pickup truck, the 2025 Ram 1500 REV. But while the commercial did show off the truck's design, it spent a lot of time making jokes about "premature electrification" instead of telling us about the truck's specs. Now, Ram is finally giving us the details on its first all-electric truck.
2024 Nissan Z NISMO | Jalopnik Reviews
Since we already saw the truck back in February, there isn't much to say about the exterior. It's big, muscular and attractive, but it doesn't stray too far from Ram's traditional full-size pickup truck styling. You could even argue that Ram played it too safe with the design. That said, we do like that Ram gave the REV a power-operated front trunk that offers 15 cubic feet of storage. Frunks may not get a lot of use in most EVs, but on a pickup truck, it just makes sense to offer as much lockable, weatherproof storage as you can.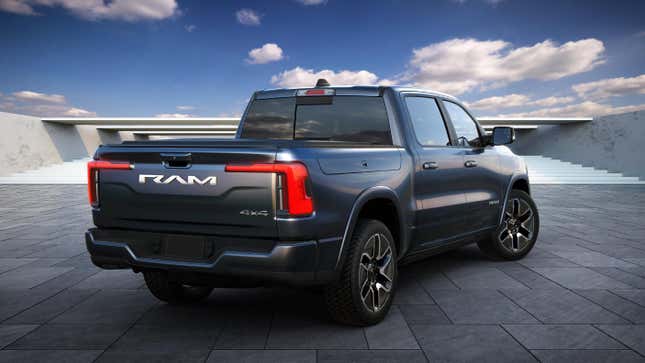 Similarly, the interior takes a pretty traditional approach. You get a 14.5-inch center touchscreen, a 12.3-inch driver display and a 10.25-inch passenger screen, but the cabin will be largely familiar to regular Ram drivers. We'd argue that's a good thing, and we appreciate Ram offering some actual physical controls instead of going touchscreen-only. And from what we can tell, it looks like the cabin should be pretty nice, especially on higher trim levels that offer carbon fiber trim, metal accents, leather and even massage seats.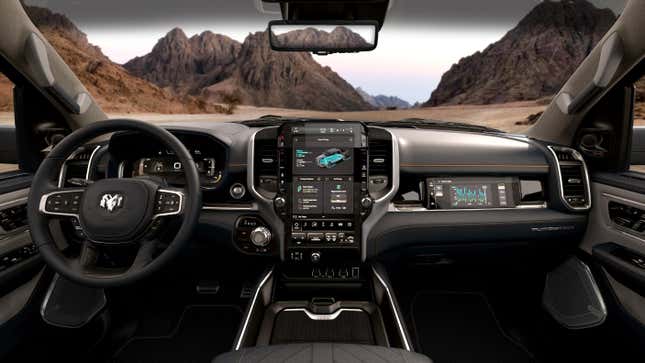 The biggest story here is the battery range. The REV will offer two battery options. The standard 168-kWh battery will offer a promised 350 miles of range, while the optional 229-kWh battery is said to offer up to 500 miles. That's pretty impressive. On a powerful enough charger, Ram also says you'll be able to add up to 110 miles of range in about 10 minutes. And you can use outlets in both the bed and the frunk to power your job-site equipment, with the bed offering 7.2 kW and the frunk offering 3.6 kW.
As far as power figures go, the Ram 1500 REV won't be chasing down Model S Plaids anytime soon, but it certainly won't be slow. Ram says the electric pickup makes 654 hp and 620 lb-ft of torque, which should be enough to hit 60 mph in a manufacturer-estimated 4.4 seconds. It'll also be able to tow up to 14,000 pounds, or haul a payload of as much as 2,700 pounds. Oh, and if you come to any river crossings, the Ram 1500 REV can ford up to 24 inches of water.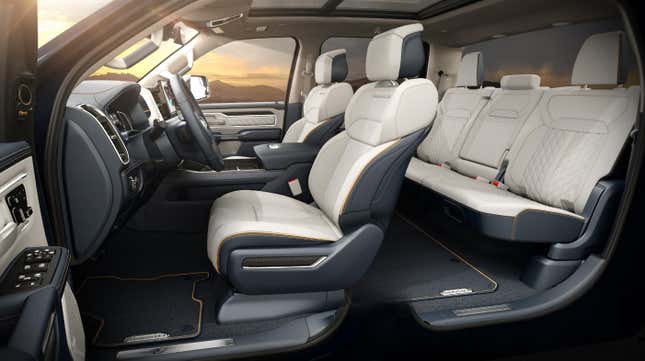 The REV has dual-motor all-wheel drive, with one motor at each axle, but the front motor can disconnect when it's not needed to improve efficiency. You can also order a rear locking differential. And even though it's electric, the truck is still body-on-frame. We expect it to ride better than most body-on-frame pickups, though, because in addition to the independent multi-link rear suspension, it will also have adjustable air suspension with adaptive damping.
The REV will also come with all sorts of modern safety and driver-assist features, including what Ram calls Hands-free Active Driving Assist that allows for hands-off driving in some situations, and ParkSense Automated Parking System that can handle parking responsibilities for you.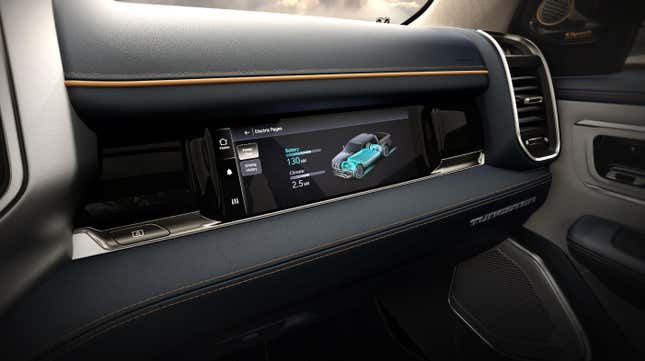 The big question that still remains is pricing. That has yet to be announced, although we do have a lot of time before the 2025 Ram 1500 REV goes on sale sometime toward the end of 2024. Based on what Ram has said so far, it sounds like the REV will target the luxury end of the full-size electric pickup truck segment, so it'll probably be pretty pricey. Especially if you want the top-of-the-line Tungsten trim. Then again, it does sound like you'll get a lot of truck for your money, so to the right buyer, it may be worth it.