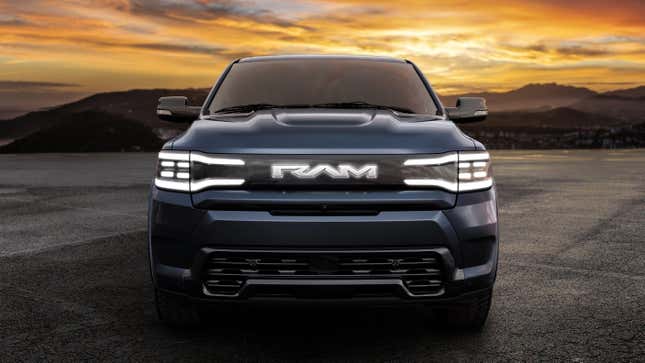 Right now, there seem to be two distinct approaches to designing electric pickups. On the one hand, you have massive, hulking vehicles, designed to instill fear in the hearts of nearby pedestrians, cyclists, and sedan owners. On the other, you have entirely normal trucks that just so happen to be powered by electrons. When Ram released its electric Revolution concept, we all thought we were in for the former — but it turns out Stellantis had a much more reasonable truck up its sleeve.
The Ram 1500 REV, as the production truck will be known, looks downright understated compared to the lumbering Revolution concept. It appears to be a regular, usable pickup truck — a sign of maturity from the brand that brought us the TRX. It's even, dare I say, pretty good-looking.
Ram officially revealed the 1500 REV in a Super Bowl ad full of double entendre, because it is still the brand that brought us the TRX. The commercial seems to imply that the 1500 REV is the only pickup truck with enough EV range to make your dick work, which I imagine is the sort of Dane Cook message that might play with Ram enthusiasts (Andy, specifically). Despite the messaging, however, the 1500 REV actually appears to be a solid entrant into the increasingly crowded electric pickup market.
The REV (the pickup, not the Avenged Sevenfold drummer) features the usual swath of electric truck features: Fancy lighting, a frunk, and "Home Energy Charging" — Ram's name for two-way charging, allowing the truck to power your home. The commercial also touts "options being designed to extend range," though it doesn't specify exactly what those range-extending features might be.
Beyond that, there's not much we know about the REV. Ram hasn't released hard specs for battery capacity, power, or weight. But, the company still has time — the truck isn't expected to hit showrooms until the end of 2024.