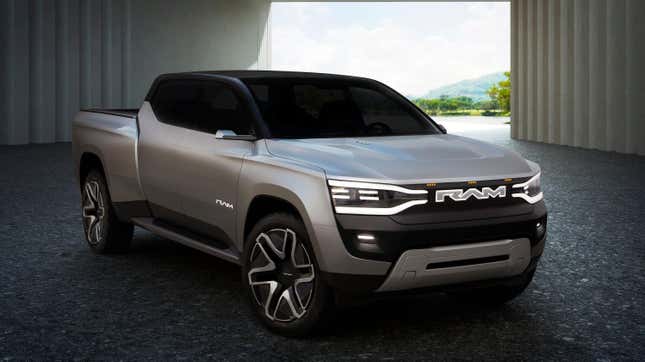 Ram has officially revealed the name of its first electric pickup truck: the Ram 1500 REV, and it's slated to begin production sometime in 2024. The concept version was called the Ram 1500 Revolution BEV, but the folks over at Stellantis decided that name was just a bit too clunky for production.
Other than the new name, Ram didn't give us too much new information on the all-electric pickup truck. However, we aren't going to have to wait very long before that more information becomes available. The automaker says it will be making an announcement on Sunday, February 12th – which is coincidentally Super Bowl Sunday. So, be on the lookout for that as well as a slew of commercials as the Eagles hopefully get blown out by Kansas City.
REV is certainly an interesting choice for an electric truck name… given that its motor cannot rev in the traditional sense, but hey, I'm not in marketing. (Editor's note: Thanks, Andy.)
We first got a look at the concept EV Ram back in January at CES in Las Vegas. The automaker says its battery pack is based on an 800-volk architecture and will fast charge at 350 kilowatts. That being said, we don't know the actual capacity, though the smart money would say it'll be quite large.
The truck's powered midgate can also come down, and the interior can be reconfigured with three rows of seats via jump seats. If you need to haul, Ram says with the midgate down it can carry items up to 18 feet long.
The Ram 1500 REV will be joining an ever-more crowded field of electric pickup trucks like the Ford F-150 Lightning, Rivian R1T, GMC Hummer EV Pickup and the soon to be coming Chevy Silverado EV, GMC Sierra EV and – in theory – the Tesla Cybertruck.