For '83 alone, Buick took a break from the Grand Nationals to make the T-Type. As today's Nice Price or Crack Pipe turbo Regal proves, that's almost as grand, but will this car's price fit you to a T-Type?
A 72% thumbs-up vote garnered yesterday's '76 911 not just a Nice Price win, but also kudos for its Fuch-in' low price and potential hoonability. That model year Porsche also sold the 930 turbo version of the venerated platform, a car that amplified both the 911's attributes and its foibles. Today's contender is equally pressurized, although at 190-bhp, its 3.8-litre six produces less than yesterday's naturally aspirated flatty.
Buick won the NASCAR Manufacturer's Cup in 1981 and repeated in 1982 with an amazing 25 wins, a feat not repeated until Chevrolet's 26 win 2007 season. Feeling pretty good about themselves, Buick introduced the NASCAR-homage Grand National edition of the Regal, which sported the turbocharged version of the company's tried and true 3.8 V6. The 1983 title went to that punk-ass Chevy, and Buick, expressing a bit of pique, renamed the special Regal the T-Type for that year. When Chevy won the next year, and the one after that, as well as the next six, Buick said Eff to the it and went back to the GN moniker for their pressurized Regal rear-driver.
That makes the T-Type one of the most rare of Regal, and this '83 has all the bells and whistles that model afforded. That means the aforementioned 3.8, which is an engine with an odd history. The Buick 231 V6 was born in 1962 as the Fireball V6, a wholly cast iron derivation of the all-aluminum Buick V8. The GM car maker must have had some kind of hardline drug jones because they were always selling off their motors- Rover getting the aluminum V8 (which has been inside more Brits than Hugh Grant) and the awkward 90-degree V6 to AMC, an executive of which called it rougher than a cob but still deemed it satisfactory for dropping under the hoods of their Jeeps. As gas prices took precedent over performance numbers, Buick got out of rehab and quickly bought back the six from the faltering Kenosha car maker. A stagger in the crankshaft created the 'even-fire' six, and the rest is, as they say, history.
G/O Media may get a commission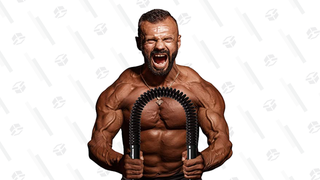 10% off
Zenooze Boa Power Twister
This T-Type is one of fewer than four thousand built in 1983, and as that was the only year they branded these things as such, that's all there'll ever be. Mated to the T-Type's 190-bhp 3.8 is the THM 200-4R 4-speed overdrive slusher, a gearbox introduced just a year prior to this car's introduction, and the brakes are Hydroboost II assisted. Other than that, the T-Type, like the precedent GNs get a 'heavy duty' suspension, model-specific alloy wheels, a decklid spoiler, special paint and some spiffy badges.
The paint on this one is a respray, but looks to be in the proper gunmetal gray with blackout trim of the '83 Ts. Inside, it's blue over baroque, and you know what they say, if it's not baroque, don't fix it. The pic provided doesn't give an idea of what any part of the interior save the dash looks like, but suffice to say it doesn't look like it was used as a set for Caligula or anything. Mileage is anybody's guess as the sell is more interested in double spacing his Craigslist ad than providing that bit of pertinent data. Hey, it's got 103,000 on its clock! He does claim that the car is all in working order, and that a clear title comes along for the price of admission.
And what, pray tell is does a ticket cost for a ride on the T-Type express? Well, in this instance, the seller is asking a benny-shy of five large for the honor, and expectedly makes note of both the NADA and investment amounts as though either bares any pertinence to the car's present value. This car was, when new, called the 'quickest car in America,' which is either to its benefit, or a sad testimony to the state of malaise-era American automobiles, but regardless, what about that $4,900 asking price? Is that a princely sum for so regal a Regal? Or, could you be a pauper, and still afford it?
You decide!
East North Carolina Craigslist or go here if the ad disappears.
Help me out with NPOCP. Click here to send a me a tip, and remember to include your commenter handle.