Iconic, idolized, and ass-engined, Porsche's evergreen 911 has proven over the years to be aspirational and yet reasonably obtainable. Today's Nice Price or Crack Pipe 1976 Targa aspires to be obtained, but does it require too much green?
01:08
Danny DeVito Explains Old-School Car Customizing to His Daughter Lucy
Today 1:13PM
As it turns out, the only thing qucksilver about yesterday's 1988 Zimmer was how quickly everybody locked up their silver at the sight of it. An overwhelming 90% Crack Pipe loss, as well as massive numbers of eye-bleaching incidents filling the nation's emergency rooms meant that phallic phiero will probably be haunting Bob's Classics for some time to come. Sympathies go out to Bob's neighbors.
No one ever accused the Porsche 911 of being the ugly step sister, a fact born out in the nearly 50 year reign of its venerable shape. Debuting at the 1963 Frankfort Motor Show, the 911 (originally 901, thanks Peugeot) was to replace the 356, but also move the company up-market. The new car deserved a new engine, and along with the carry-over four from the earlier car, Porsche engineered a spankin' new six. Keeping the models easily differentiated, those with the four carried the numeric 912 on the engine cover while those with the six, strangely enough, were to be marked one less.
G/O Media may get a commission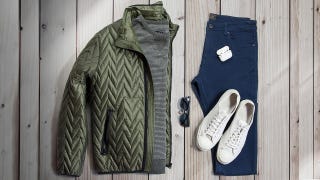 60% off
Jachs NY Fall Sale 60% Off
This 1976 Targa edition is the one less. By that year, the 911's flat six was 2.7 litres and fuel injected. Seventy six also saw the introduction of the Carrera 3.0, a model that shared the 930's big-ass motor, but not its spinning snail. The seller of this 911 claims that the car is a Carrera 3.0. . . sort of. It appears the car left Baden-Württemberg with its proper 2.7, as well as a pair of skinny model's hips, however, somewhere down the road that 165-hp engine was replaced by a 3-litre out of a 1978 SC. The differences between the 2.7 and 3.0 are much greater than just the bigger engine's 95-mm larger bore, as the 3.0 eschews the previous generation's magnesium case for die-cast aluminum with Nikasil cylinders. That, along with Bosch K-jetronic fuel injection, allowed the SC motor to put out 200-bhp (DIN), on an unstressed 8.5:1 compression ratio, only 10 less than the 2.7 Carrera motor. Other changes, including a much more durable cam chain tensioner, make the 3.0 one of Porsche's best, and an engine that has gained the reputation for being almost bullet-proof.
Along with the big gun hanging out in the back, this Targa gets the Sir Mix-A-Lot seal of approval as its hips have been widened thanks to the flared fenders of an SC. That, along with the 3.0, makes it damn near an SC, despite still having but an S on its engine cover. But what the hell, wearing just an S never seemed to bother that guy from Krypton.
The seller delineates a long list of replacement parts, most of which are normal wear and tear items, but it's nice to know at least those have been done. He also says the engine runs strong and doesn't smoke like a goth teen, and that the 915 five speed shifts smoothly through its new mechanism, although his revelation of a drivetrain removal to fix some oil leaks makes you wonder why he didn't do the clutch at the same time. Those oil leaks, while apparently fixed, could use some more detail in the description as well. Overall, the car looks to be in pretty good shape, save for a good sized ding in one of the wheel arches, and a front valance that shows you why parking lot berms are the tools of the devil. Keeping that lightly worn body from scraping the asphalt are a proper set of Fuchs, and not the naked, polished ones that the douches seem to like, but black painted with a patina of use, just like Steve McQueen rolled.
Inside, the dash is remarkably unmarked and the seats, while tired and missing the lift latches, are perfectly acceptable for sitting on and enjoying the sun through the wide opening of the targa roof. That hole above your head is likely the reason the wall to wall is all faded and in need of replacing, but hey, that's nothing a snazzy set of sisal mats won't cover up. You might think that floor mats won't cover up the nearly 175,000 miles of wear and tear under this Porsche's tires, but keep in mind that these things were pretty much hand-built by the Germans with the intended durability of a panzer tank. Sure there's stuff that you'd expect to wear out and some of that has already been replaced here, but overall a 911 should impress with a durability unknown to its contemporary competitors- the Dino, Merak and Urraco. Even the much larger BMW 3.0, with which it shares a teutonic heritage, doesn't share the Porsche's reputation for not falling totally apart.
Okay, it's rough, but not a RUF, so what do you think would be a fair price for this 911 Targa that's a little bit Carrera, and a little bit rock and roll? Well, the seller seems to think $8,750 is the real Don Steele, and I think you'd be hard pressed to find another in similar shape for such a price, but, is that a deal? Do you think somebody ought to snap this Porsche up for that kind of bank? Or, does that price for this Porsche make your bank account snap shut?
You decide!

Salem Witch Trials Craigslist or go here if the ad disappears. And hey, it's also on the eBay!
Help me out with NPOCP. Click here to send a me a tip, and remember to include your commenter handle.