If you hate all the stanced cars out there then perhaps you will contrastingly love today's Nice Price or Crack Pipe Datsun that's high as a kite. That is of course if you're down with the price and not still all up in the air about it.
You know what word was heard a lot last night? Boo! That's what. If you happened to stop by yesterday's NPOCP then you might have heard a similar word - Boooooooo! directed at the price of the somewhat sketchy 2001 Nissan Skyline that we featured. That car's 65% Crack Pipe loss was almost as bad as getting an apple instead of candy while trick or treating. And then finding that it was wax fruit. Awww, grandma!
Today, new month and new car! Well, new old car, and in fact today's 1969 Datsun is actually two cars in one. That's because its tidy and freshly painted roadster body has been dropped onto the stout and sturdy frame of a Jeep CJ-5.
G/O Media may get a commission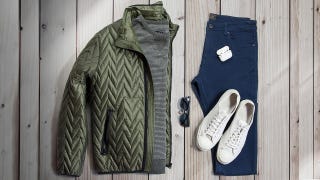 60% off
Jachs NY Fall Sale 60% Off
The 2000 was ultimate edition of the Fairlady roadster and this being a '69 enjoys the taller windscreen and plastic dash introduced the year before. What it doesn't enjoy anymore is its original 133-horse U20 SOHC four and five-speed stick. In their place resides an AMC six of indeterminate age and a three-speed manual perfect for self-shifters with short attention spans.
Of course the rest of the drivetrain is all Jeep, including live axles at each end and a hard leaf-spring suspension that will likely make bumpy roads feel like you're Marcellus Wallace and the Datsun is Zed.
Still, much like the original Jeep CJ-5 this offers capable off-roadability along with communing with nature open topness, just with two fewer seats. The chairs that are there look to be the original Datsun units, just sans the headrests.
The rest of the interior appears plenty serviceable and of great appeal to the wall-to-wall-a-phobic. Remarkably, considering its major point of connection between Datsun and Jeep, the car appears to have its original wheel and steering column. Plus, left-hand ignition!
The ad claims that the car 'runs and drives good,' and honestly when was the last time we saw one that said otherwise? It also notes that the paint is a recent respray, but apparently that was undertaken with the doors closed as it's a bit rattier in each of the jams, and as is typical of Datsuns this age, the weatherstripping looks like the Crypt Keeper's ass.
Another issue that you might want to keep in mind is that this Datsun roadster comes without a top so unless you are specifically seeking a fair weather friend, you might want to add the cost of a new bit of vinyl to the cost of ownership.
The staring point for that is $4,200, and you now need to say if you find that to be a deal for this Datsun. What do you think, is $4,200 a fair price for this custom off-roadster? Or, does this Datsun wedded to a Jeep come with far to large a Dowry demanded?
You decide!
Boston (World Champs!) Craigslist, or go here if the ad disappears.
H/T to deeteevee for the hookup!
Help me out with NPOCP. Click here to send a me a fixed-price tip, and remember to include your commenter handle.