The Geländewagen, or G-wagon for the tongue-twisted, has been Mercedes Benz's hair shirt offering for the better part of four decades now, and represents the marque's longest running model. Today's Nice Price or Crack Pipe 300GD is kitted to tempt, but does it also come with a tempting price?
Yesterday's 1978 MB 240D for under a grand found favor with an overwhelming 95% of you, meaning those who voted it a Nice Price win. I'm assuming the other 5% of you felt it needed to be a wagon. That, or you also hate puppies, happy endings, and the satisfaction of a good bowel movement. Oh well, you can't please everybody all the time.
People pleasin' isn't typically one of Mercedes Benz's goals, as the company tends to cater to a more exclusive crowd - meaning those with a shit-load of money. Of course, time is a great equalizer and given a few years even certain MB models tend to drop into the realm of affordability for folks of more meager means.
That was evidenced by yesterday's ride, and while today's 1983 300GD is a lot more expensive than that car, it's still a ton cheaper than a new G-class, and offers certain features that you simply can't get on a fresh one today, at least not here in the States.
G/O Media may get a commission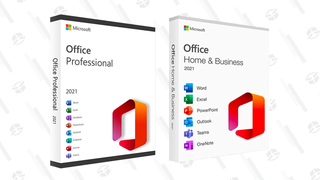 89% off
Microsoft Office Professional 2021 Lifetime License
Among those features are the 3-litre OM603 diesel six, which has about 110-horses and a reputation for longevity that rivals Aerosmith's career. Backing that up is a five-speed manual, another option currently AWOL from the contemporary G-wagon's option list.
Perhaps the most alluring aspect of this G is its body which is the sexy short wheelbase convertible model. These were never officially sold here and are the most vexing to consider for purchase because they are so close in concept to the vastly more common Jeep CJ/Wrangler.
If you prefer the rarity and exclusivity that a G like this affords over the common man Jeep, then perhaps you'll appreciate this one's condition and price. Let's have a look.
First off, the body. The truck's silver paint and smoke-grey AMG alloys compliment one another nicely, but there are some issues here that arise once you get closer. As typical of these old Gs, this truck has rust pocks in a number of places. In addition to that there's some funkiness going on at both rockers, and a bunch of aftermarket/later model body bits to muck things up. The top, on the other hand, looks tight as a drum and right as rain.
Heading inside, there are seats that the ad claims have been recovered. I'll be honest with you- they look like they were recovered from some cold war era Soviet public transit vehicle as they are as plain a jane as you could imagine. I'd prefer to see a pair of plaid-upholstered Recaros in there, but I guess the current setup is better than nothing.
The ad also notes that the truck has passed Pennsylvania's state safety inspection, which indicates that it is able to be registered and licensed in that state at least. And for those of you who have just had your mani-pedi done, the seller has recently changed to oil so you're good for at a minimum a couple of months.
The price for that oil change, with the truck thrown in, is $36,900, which while not cheap, at least gets you a G-wagon Cabriolet with a diesel and a five-speed. If that doesn't raise an eyebrow appreciation, I don't know what will.
What's your take on this 77,000-mile G-wagon for $36,900? Based on the ad, does that seem like a good deal? Or, is that just too much to get into the Glen?
You decide!
eBay out of PA, or go here if the ad disappears.
H/T to Bigblockbear for the hookup!
Help me out with NPOCP. Click here to send a me a fixed-price tip, and remember to include your Kinja handle.