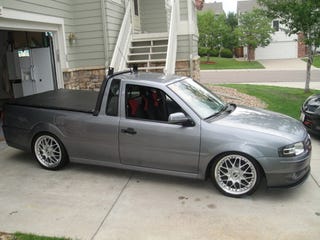 Nice Price Or Crack Pipe
Is this used car a good deal? You decide!
There's some things they make in Brazil that are really good — food served on swords, racers, and bikinis. Based on today's Nice Price or Crack Pipe VW you might want to add pickups to that list as well.
It's not even the dog days of summer yet, but yesterday's 1975 Datsun might have had you asking is it hot in here, or is it just Z. That two seater's slatternly hue was probably bright enough to catch the attention of both police and Pentecostals, but its price didn't seem to shock, garnering the car an overwhelming 84% Nice Price win. Mmmm, Z-licicous.
Maybe not as tasty, but more utilitarian, as well as more expensive, is today's Brazilian Vee-Dubamino. There's an old joke about a dog training bra that makes pointers out of setters. That's the joke. . . I said it was old, I didn't say it was good. The reason I bring this up is that this 2007 VW pick up truck is branded as the Pointer in its sales market of Mexico. Despite being tagged vendido en México, the Pointer isn't actually hecho en México, but got its hecho on in Brazil instead. And yes, I'm aware they speak Portuguese in Brazil.
The seller has had this muy rare in the U.S. Pointer for sale on the VW Vortex ever since April, but doesn't seem to be able to find a taker, even among that site's faithful. His consternation over the inability to turn this truck can't be due to registration issues; he claims to have licensed it in Colorado without any problem, and includes a copy of the foreign title registration papers as proof. As he also says that he doesn't have a clue how he did that, one wonders if he asked a friend to hold my beer before going into the DMV?
In the ensuing time since smuggling the Pointer across the Rio Grande, he has dropped it and inside has replaced the factory turning device with an alcantara job from Sparco. High-bolstered bucket seats have also replaced the flat, gray, ass baskets it left Brazil with, and, like a teenager getting dressed before a date, it's gone through a number of wheels. You get all this with the purchase price, according to the seller, Castrogtstoyo, plus all the original stuff.
Unlike the Rabbit-based Caddy we all know and love, the Pointer doesn't have a transverse engine and transmission. Instead, like the VW Fox once sold in the U.S., it rocks its 1.8-litre OHC four out ahead of the five-speed gearbox, Audi-style. It's still a unit-body Camino style trucklet, rather than one with a separate bed, which makes it most appropriate for light duty work like transporting the equipment for the Dubs Along The Rockies bikini contest. The pickup is just one body style of the Pointer available, and in markets outside of Mexico the car goes by various other names, including Gol and Fox.
Styling of the car is typical VW with a little of last-gen Nissan Sentra thrown in on the headlights and front bumper. If you like the GTI's grille-extending black-painted goatee, you'll love the family resemblance of the Pointer's beardo face as well. Between that nose and the plastic-lined bed, the cabin benefits from a little extra length, affording a pair of sliver windows and some room to drop the seats back for the occasional siesta. As far as how much life is left in it, the seller neglects to mention mileage, but what the hell, it's only three years old and it seems to spend most of that time up on jackstands trying on new shoes.
If you want to plant your shoes on its pedals, you'll have to come up with $16,000, firm. That's the price Castrogtstoyo set back in April, and he hasn't budged one penny since. He has however, swapped out the rims two or three times. What's your take on that price for this Pointer? Has it not sold because the right buyer just hasn't come along to pick it up? Or, is that price the reason this Pointer is a setter?
You decide!
VW Vortex or go here for the truncated version should the Vortex cease to exist for any reason.
Help me out with NPOCP. Click here to send a me a tip, and remember to include your commenter handle.